Do you make friends or find them?

Egypt
April 11, 2007 2:51am CST
I don't like "making friends" as meeting a lot of people and try to connect to them and go along what they like, etc. I like to "find friends" people who think like I do or have similar interests, people who I feel like we were meant to be friends just waiting the moment we meet.. Other people I call "contacts" not friends, and I don't like to "make" them friends. I just know them for business or convenience but don't get too personal with them. do you go around making friends with everyone, or you like me just keep an eye for new friends?
4 responses

• Philippines
11 Apr 07
I let people find me, as I am not that a friendly-type of a person. I am always the ones who keeps my mouth shut, and let them do the talking. by that, I could learn from them, study their personality and observe their behaviors. If they are the one's who initiates the first signal, then that's the time that I will introduce myself to them. If we jell together, then it's nice. But if we don't have anything in common or any particular likes at each other, then I say thanks to them. I always try to keep myself laid back, as I do not want others to make easy judgements upon me.

• Egypt
11 Apr 07
I'm not very introverted, I may seek people sometimes when I feel that we can be friend but I wouldn't push things, at the end I can know many people but a few I can call friends.

• Singapore
11 Apr 07
I don't try to find them - I am anti-social LOL. :P I just *stumble* upon them. Any new person I meet, I will try to be friendly (unless I had a bad hair day) and if destiny wills, we will be friends. That's how simple my friend-courtship is. :P

• Egypt
11 Apr 07
that's nice, at least you give them a chance lol yes we just stumble upon friends and I'm not really looking, my newest friend I have known since the last millennium lol

• Ireland
2 May 07
I think my friends find me. I try to avoid it, but some of them keep at it and there's just no escape! I have lots of aquaintances, but I don't like to have any more friends than I can be a good friend to.

• Australia
15 Apr 07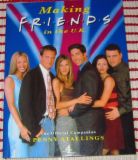 In the real life, I do not have many friends, most of them approach me actively when they know me, may be I am a passive woman. I do not find friends by myself, the friends that i know now are mostly the friends of my friends which they bring them out together in a party. Of course, there is a difference between 'contacts' and friends, friends are someone who know you well and you will share your personal things with him/her while contacts are someone you deal with for business person. It is different in mylot. I will try to find more friends in mylot as I would like to meet more people from different countries and learn their cultures, I will try to find them actively,and add them to my friend list.