advice needed!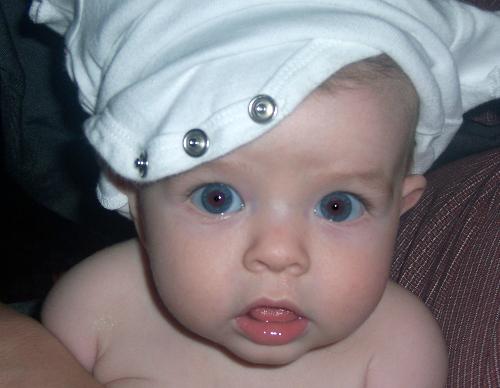 United States
April 11, 2007 1:27pm CST
My youngest son is four months old and has two teeth! He's breastfed. I know they say that you can start feeding breast feed babies around 6 months old. But he has teeth already. And he's doesn't seem satisfied with the amount of milk he's getting. Should I start feeding him cereal or wait?
5 responses

• United States
11 Apr 07
It's best to wait until they are six months old. He may not being satisfied because he's growing through a growth spurt. I usually hear mothers say the same thing at the same age. I know it's exciting and a new step in life for the baby, but in the long run delaying it a few more months is a healthier choice. Here's a great link on why to delay and how to start http://askdrsears.com/html/3/T032000.asp Good luck!

• United States
11 Apr 07
If your baby is ready for food, it would probably be okay to start him now. We got the go ahead from our pediatrician when our son was right at 4 months old. She said that as long as he was able to sit by himself in the highchair and showed a real interest in eating solids it was okay. Of course my child also had this HUGE appetite. So I'm sure our pediatrician felt sorry for us. At 4 months old, he could nurse until I had no more milk and then still be hungry. And when I pumped, it was normal for me to pump 14-16 oz at a time (every 2-3 hours)! While I was at work for 5 hours, he would drink around 20 oz, and be starving by the time I got home. He's 14 months old now, and today for breakfast had oatmeal and a banana. He had some corn and apples for a morning snack. He had a whole grilled cheese and some of those Gerber wagon wheels for lunch. He had some gerber puffs along with some yogurt for an afternoon snack. And he will still have supper and another snack today. He's already had 14 oz of water and around 28 oz of milk. He eats like this most of the time! And he's still pretty thin! He weighs 25 lbs and is almost 33 inches tall!

• United States
11 Apr 07
If he is not satisified with his current feeding, then at four months, it's fine to add some cereal to his diet. I began my own son on rice cereal when he was around three months old because he was genuinely not satisified. He digested it very well and I gradually added in other cereals every few weeks or so.

• United States
15 Apr 07
i have a 5-month old and i plan to feed him cereal at 6 months of age. studies show that children less than 6 months old who were fed early are more prone to developing food allergies cause their gut is still immature. and when you do start feeding them, introduce one type of food at a time and that way you can see to what food he is allergic to. i think they say introduce new food every four days. i would do research when i'm ready to feed him on how start and what food is best to start with and how to prepare it.

• Canada
11 Apr 07
I raised my brothers and sisters up from small, and one of my friends babies for a few months, and one thing i can tell you, and this also comes from research, is that it's actually healthier on the immune system, as well as the metabolism of the child the sooner you start feeding them At one time, they fed them cereal from the time they were born, that night, they would feed them cereal, and then once a night for a couple of weeks, or until it seemed the child was ready for more. My brothers and one sister are tall and skinny and eat like horses, very healthy, the other has downs syndrome, and there's nothing i can do about the situation they got going now... If he wants more, feed him more, The little boy i was taking care of for my friend, she hadn't put him on any food other than milk, and the poor little one screamed and cried 24/7 it seemed, she was here at the time as well NOT being a mother... Anyway, i went out, got him some puddings, some rice, and took to making home made baby food, he loved it, and started putting on the necessary pounds. Now, he's healthier than she could have dreamed as well. So the faster you start feeding solids, if done in moderation, start with one feeding a day, and before bed, the faster you will have a perfectly happy, healthy baby when it comes to natures of what he eats.