healing with prayer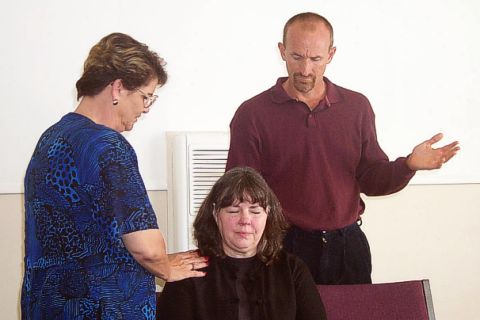 Lancaster, New Hampshire
April 11, 2007 6:16pm CST
There has been a lot of controversy over the healing power of prayer. Some say it is the work of God. Some say it is the power of suggestion. A Recent experiment, in wich a group prayed for a patient with out his knowlage, showed the patient did no better than those who were'nt prayed for. However, others showed that when a person knew he was beign prayed for, they seemed to get better faster. So is it just the power of suggestion? Or do you believe that there is merit to this theory?
5 responses


• United States
12 Apr 07
..I heard the pray-ers were not believers.. This would make a tremendous difference in the outcome.. I've prayed for lots of atheists over my 30 years of faith, and have seen them become believers! I surely do not think of atheist folks as some sort of enemy. Of course nothing will convince an unbleiever. (Except, in my opinion, God Himself.) :))

• United States
12 Apr 07
Of course, you do have an excellent point! The experiment should consist of atheist patients and believing pray-ers.. of course, if the atheist knew about it, it's possible they would/could block the benefits whether consciously or unconsciously.. Perhaps this is one experiment that cannot really be carried out.. :))

• United States
12 Apr 07
I wonder if this is the study I heard of where the participants/pray-ers, were not believers.. I do believe this would make a HUGE difference in the outcome of the experiment. :))

• United States
12 Apr 07
I believe in GOD and Prayer. When I am sick or someone I know is sick I will pray for them so that they get better. I also will pray if something bad happens or if I am having a lot of problems. I think if you really believe Prayer and GOD does help.

• India
12 Apr 07
Yes I do believe in prayer and I think that God does heal the sick. But remember even if we ask God for something in prayer does not mean we will always get what we want. we may have to wait for what we want when God thinks that we are ready to receive His blessings.

• Philippines
12 Apr 07
i believe in healing through the power of prayer. it is indeed the work of God. and yeah, i think the energy is much better if the patient knows that he being prayed for.