Hoodoos! Have you ever seen them?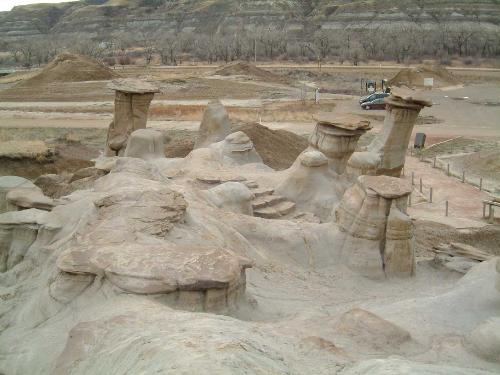 Canada
April 12, 2007 3:52am CST
On a trip in Alberta, Canada we took this picture of Hoodoos. I had never seen them before. (According to Wikipedia, the free encyclopedia Hoodoos are tall thin spires of rock that protrude from the bottom of arid basins and badlands. They are composed of soft sedimentary rock, and are topped by a piece of harder, less easily-eroded stone that protects the column from the elements._Has you can imagaine I was certain that these were a man made creation but I was proven wrong? I understand they are found in many places in North America! Have you ever seen any Hoodoos?
1 response

• Canada
14 Apr 07
Neat , I have never seen this before. I have been the park that you are talking about but it was long ago I don't remember anything about it . It would have be nice if you had posted a picture with this so we could see what you were talking about .

• Canada
25 Apr 08
You were my only response one year ago when I start this. It was my first discussion. I believe I did post a picture with it. Maybe it did come out I will have to check after I post this comment. I think it took be too tries and I ended up with two discussions the same. Hoodoos are so interesting to look at. These ones I saw in Canada but I have been them in the United States as well. Do you think you will go to Alberta some time? If so you will have to go out to Drumheller and see them.

• Canada
25 Apr 08
Yes, I checked there is a picture. It was my first attempt at the discussion that the picture didn't end up with the discussion. I have learn't a lot in a year and I am hoping to be better and myLotting because of it.