Those who are Indians should participate in this Discussion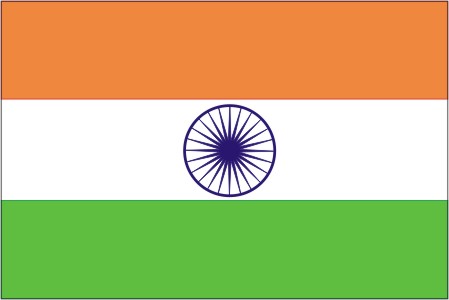 India
April 12, 2007 9:51am CST
Well this post contains nothing. This is only being posted by me to see the strength to be an India. Do leave a quote on your behalf if you love India.
9 responses

• India
17 Apr 07
So you are a new member .i am an Indian & proud to be the one.I will be nice to be your friend.Do post some good discussions & responses to others discussions.

• India
17 Apr 07
Thanks for contributing. Its nice to see many persons reply to a simple post. The post contains nothing but only sense of pride of being India. India is definitely the best in the World.

• India
17 Apr 07
This post definitely contains something dear.. See it contains -- National flag of our country on which we all Indians are proud of :) and I guess you are also proud of your country's flag and your country too. I definitely love India and I also love to post on the discussions posted by my Indian friends :). All the best to you here on myLot

• India
17 Apr 07
Thank you for contributing to this discussion. Its great to see such an overwhelming response to a simple discussion. India is the most successful democracy in the world as the citizen here know how to be together all time.

• India
14 Apr 07
now when our journey is over in this world cup we should start thinking about the basic mistakes which has been made by us.in my opinion call back john wright as the indian cricket coach.he is the right guy for the team atleast at this point.

• India
15 Apr 07
India has many things to offer. Aur bhi cheezein hain zamane mein cricket ke siwa. Isn't it.... anyways, thanks for contributing to the dicussion.

• India
14 Apr 07
i love india not just because i am an indian, but i love india because indians are everywhere in the world and helping other countries to develop more. india itself a fast developing country and making other countires jealous. india is great bcz of its culture, relegions and friendlyness. i dont have words to say about india, if i start writing about india, it may take days and weeks or months, and may be MYLOT servers became DOWN :-)) hahahaha MERA BHARAT MAHAAN.... I love my India and i am with everyone who is indian, who loves india, who admires india.....

• India
15 Apr 07
Nice to see such an overwhelming response. And why not,After all we arfe Indians. I love my India. Thanks for contributing to the discussion. Yes, Indeed if start writing about India then MyLot server will not stand.


• India
14 Apr 07
Thanks for contributing to this discussion. I have just started on MyLot. But I am thrilled to see so much support on this discussion. I have receievd maximum number of responses on this discussion. Thanks to My India. Only the name is sufficient to show our bond.


• India
12 Apr 07
i love india truthfully,because a m n indian and i like indian cricket team very much.india has lose the world cup chance.but next time india will get the world cup

• India
13 Apr 07
Thats Like a true Indian. It good to see such a positive attitude. Mera Bharat Mahaan. India has a diversified culture. India has produced one of the greatest heros of International Fame. I am proud to be an Indian.

• India
12 Apr 07
Dear friend as you are there in my friends list , I just want to add something in you efforts. Try to post little lengthy discussions as chances of response will be more than. Generally old members from mylot doesn't respond to oneliner or short discussions as they may get deleted. I love my country and I love my family lolz. take care and please keep this in mind.

• India
13 Apr 07
Thanks Buddy, thanks for the advise, I was not knowing that. I will make sure that the discussion is a more lengthy one from now on.


• India
19 Apr 07
Well, the discussion is on some other topics. Since you have not commented anything on the topic. Hence, I am giving you a negative rating. Please don't feel bad because these are the norms to be followed on the site and I am doing the same.