If something is "illegal", does that make it "wrong"?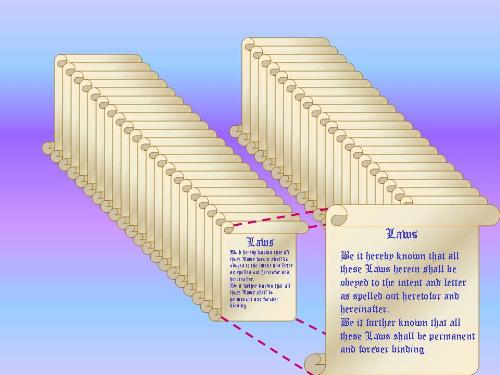 United States
April 12, 2007 3:56pm CST
Who determines what is "right" and what is "wrong" in our 'civilized society'? I'm not talking only about "legal" and "illegal"...this goes deeper than that. Laws do not define whether something is "right" or "wrong"...just that it's covered by a law, that's all. This is about defining "TRUE RIGHT" and "TRUE WRONG"...in moral, ethical terms. If something is "illegal", does that necessarily make it "wrong", just because some lawmakers decided it should be against the law? --Can something be "right" and still be "illegal" (and vice-versa)? --Can something be "wrong" and still be "legal"? (and vice-versa)? Gets confusing, but isn't that the way it is? Aren't most laws merely 'temporary' stop-gaps for a given culture in a given civilization at a given time? As we all know, laws come and go with time and changes in social systems and values. What was illegal fifty years ago is legal today (and vice-versa). Thus, we can safely and accurately assume that many laws that govern today will one day be repealed or otherwise abolished, forgotten or become obsolete. Likewise, many new laws will be enacted as society progresses (or regresses...whichever the case may be). What do you think??
6 responses

• United States
3 Jul 07
I'm not sure if this is where you are going with this post. But I believe society has gone nuts, making almost everything illegal and almost everyone breaking a crime at some time in their lives. Today is my birthday and I've been around for a long time. Here are all the things I did as a youngster that is now against the laws now. I rode my bicycle without a helmut. In my town you can be ticketed and fined for that. I rode a skateboard on sidewalks. The authorities act like that is the worse crime a kid can comit. You can be fined for violating that rule. We used to smoke in bars and pubs. Now that is against the law. And I know for a fact, that here in New Jersey, the most vocal proponants of that law, don't even go to bars, pubs or clubs. If you get my point, it's getting easier and easier to do something illegal, no matter how hard you try not to. Lloyd

• United States
7 Jul 07
I must agree with you Lloyd! A lot of things in my youth are now strictly forbidden, too! I must say that some things we did probably SHOULD be forbidden, but it's about the "freedom", right? And, yes, I believe we all break laws repeatedly...and we don't even know which laws we're breaking, because we don't know all the laws to begin with! What a paradox! Indeed...what a joke! So, I guess it does come down to individual choices...i.e., "choosing our battles"...and just doing the best we can to get by, no? I 'chuckle' every time I see a person driving and talking on their cell phone, here in CT. It's been illegal for some time now, but I don't see much change! Sooner or later, they'll "clamp down" like they do with seat belts. And, I heard Jersey wants to ban smoking in cars! Wow! What next?! Geeeez! Keep the faith! Thanks for your post.

• United States
7 Jul 07
The driving while talking on a cellphone laws are a joke. Everyone does it and it's just not enforceable. They make these laws to feel good about themselves because the know they can't really solve the real problems in our society. What a joke. Lloyd

• United States
15 Jul 07
Ahhh...yes. I think many of this kind of law are created at the request and pressure of insurance company lobbyists. They'd love to be able to say: "You were talking on the phone when you had your accident? That's against the law, thus your insurance claim is denied!" At least that's how I see it! Carry on man!

• Sheboygan, Wisconsin
22 Jun 07
Not really. Slavery is still legal in many countries, but that doesn't make it right. Speaking out against national leaders is illegal in many countries, but that doesn't make it wrong. Laws don't define right and wrong, they simply attach consequences to specific behavior.

• Sheboygan, Wisconsin
24 Jun 07
We agreed on something? How did we let that happen. ;~D

• Canada
13 Jul 07
You have posted a very paradoxical question that could be debated up the yahzoo...but a great topic idea nevertheless. I have studied a wide variety of spiritual teachings...and the idea of right and wrong, illegal, immoral etc. is very subjective...although many say it is not. In my view if there is a 'wrong' element to things it is when harm is caused to another. In spiritual terms I believe in the 'what goes around comes around' law of cause and effect. So in theoretical terms a mother who steals from a farmer's field to feed her hungry children may have done something illegal but was it wrong? Probably not...if what she took did not directly cause harm to his family. If she killed the cow he needed to feed his young...well...that may well be 'wrong' in spiritual terms. Sometimes the end does seem to justify the means. In Buddhist teachings they say everything is relevent and there is no right or wrong...just soul lessons we have to learn through the errors in judgement we make. This topic discussion could go on for hours...but I have to wrap...that is just my short perspective...for now. I'll be back in touch about your blog...soon.

• United States
15 Jul 07
Thanks for your post! Yes, this is one of those 'never ending stories' I guess. And, I agree with your 'perspectives' on it; it really is all about what's relevant in any given society at any given time. And, I think you hit it on the nose when you give the example of the mother feeding her young with 'stolen' goods from a farmer's field. I think we'd all tolerate such behavior as long as it wasn't every mother, in every farmer's field, I guess! Thanks again!

• United States
14 Apr 07
I rated you another + for an excellent post. This is really good. Well, if it's legal, it is accepted by the government, even if it is right or wrong. Those are laws and rules, and just get enforced. If it is illegal, the same thing in reverse. Lots of laws are old and need updating. Until it all gets straightend, or if it does, we just have to follow the "legal" and that's that.

• United States
14 Apr 07
Aha! That simple, huh? As I see it though, that gives government way too much latitude to legislate what might just be the "whims" of a few in power...if there's no real basis in moral or ethical reasoning, we may just have to "suck it up" all the more, no? I do appreciate your posts and praises!! Thanks again!

• Philippines
12 Apr 07
I agree with you. Some laws are just plain mean. For example, in out city, it's illegal to give money to beggars. But, having said that, I still follow laws and I still think that others should. Anarchy is what happen when everyone doesn't follow rules, so you have to follow no matter how insignificant. Like they say, take care of the pennies and the dollars will take care of themselves. If you follow the smaller, insignificant laws, then the bigger more serious ones won'y be a problem to you.

• United States
12 Apr 07
Illegal to give money to beggars? That is odd, but I'm sure it's about what some might do with it? I agree we should follow laws...though I don't think any one of us follows ALL of them, because it's impossible even to KNOW all of them! That said, I guess we "choose our battles" and do the best we can, no? Thanks for the post.

• Pakistan
22 Jun 07
conflict of law and morality is a very known topic infact.true first of all it is difficult to determine what is right and wrong and thereafter what is legal and illegal.a man knows of a very rich person and another as very indigent one.as a human he feels inclined forcing the rich to help the poor.morally the man would be quite right not legally.laws are made not that morality is to be adhered but certain fixed rules be made and assured to be applied for an orderly society.i do feel however the roots of the conflict go the fact as to what is considered right and wrong and we dont have fixed criterion.should i say rather, that is why we have to conclude only divine laws will do and with our reasoning we cannot have fixed yardsticks.reason can prove anything and consequently nothing at all.