How Many MP do you NEED?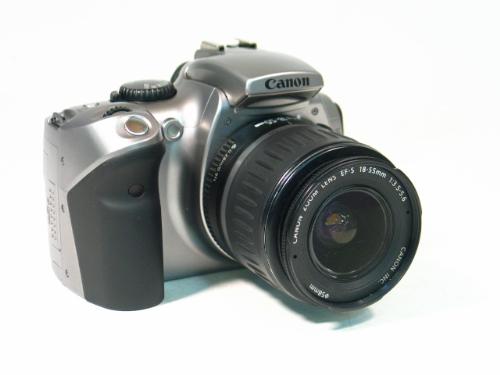 United States
April 12, 2007 6:07pm CST
What do you think the minimum MP your camera can have to still take professional(ish) quality photos? I am looking at a Canon EOS Digital Rebel 6.3MP SLR Camera with 18 to 55 mm Lens, right now my camera only has 3 MP. Do I actually NEED more than 6.3 or do people just get those to have them?
10 responses

• United States
12 Apr 07
If you are going to buy a new camera I would suggest that you buy the Canon Rebel 400. It is a 10 mp camera and you can buy better lens as you go along and they will fit the more professional cameras if you decide to upgrade. If you are looking at professional size photos I would suggest that you get at least 8MP andperfreable a 10MP DSLR camera.

• United States
12 Apr 07
I'm really broke right now so I'm really looking more for a used camera (mainly so I won't feel so bad when the value of it cuts in half in a year or so). I'm pretty sure that I wouldn't use it for prints over 8X10... Do you think that 6.3 is good enough for that sized print?

• United States
13 Apr 07
You might want to look on Ebay for a refurbished camera. I bought a Digital Rebel with the kit lense and a 5 year extended warranty. I paid less than $500.00. I have owned several refurbished cameras. The only problems I have had with cameras has been with New Cameras. Refurbished cameraswith extendedwarrantys are a great deal and you are not buying someone elses problems. They have been checked over, repairedif needed and are as good as new.

• United States
13 Apr 07
I take pro pictures with my Digital Rebel. 6.3 MP is about the minimum I would use for pro pics. The XTi, 10 MP, would be best, but if you're on a budget, the Rebel or XT, 8 MP, will do. Beware, though, you'll soon want to upgrade.

• Indonesia
13 Apr 07
I'm agree with Rebel XT with 8 MP, cause you will get more good picture (and size too). You can get more explanation on www.dpreview.com

• United States
13 Apr 07
as long as the digital is 6mp the quality will be like a film pro camera. the rebel has some flaws on clarity, you might want to get a 20d instead. the 18-55 lense is pretty basic, what pics are you trying to take?if its portraits then you will need a straight 50mm for sure and maybe a 28-80 or 28-90mm. don't forget to get a circular polarizer filter to get the skys more real looking and to take the glare off from the sun. people get 8mp or more to blow up there picture more than poster size, because you will see pixels on anything less!!

• United States
16 Apr 07
I think your assessment of the camera bodies is a bit off. You can produce just as good of an image with the Rebel or the XT as you can with the 20D. A good part of the equation is the person behind the camera and the glass on the body. I've seen people with the 1D's and 5D's produce absolute garbage with lenses that cost thousands of dollars, and I've seen others with the most basic kit lens and 'lowly' body produce breathtaking images.

• United States
21 Apr 07
3 Mp is *okay* but i would suggest 4 or more. It is better to have to many megapixels then not enough, because some stock photography sites (for example, dreamstime: http://www.dreamstime.com/res302993) require that the picture is 3 mp or more. You'll guarantee better offers from magazines as well with HIGHER QUALITY IMAGES Good luck! PS Try ebay/craigslist if you're trying to find a used camera!

• United States
16 Apr 07
I've got that same camera, and I've done professional work with it. 6.3 is decent quality for 8x10s, if you want to do 11x14s and bigger, you'll need more megapixels.

• Philippines
16 Apr 07
If you just want to take pictures but is not so serious about making it as a hobby, I guess your 3 MP will do fine. But if you're planning to be more serious in photography and has lots of extra budget to go with it, by all means move forward and get the higher MPs. Obviously, the higher you get, the better is results. Cameras with higher MPs offers great resolutions and allows you to develop bigger sized or even billboard sized pictures without affecting its quality.

• United States
16 Apr 07
I've got a 3MP camera that produced mind blowing 8x10 prints. 6MP is more than enough if you're looking to do 8x10 prints. I have 8MP with my XT, and it's definitely helpful for editing since I'm working with so much more. You'll probably find that with an SLR, any body you get is going to be good enough for pro-quality results. You should consider picking up one of the 50mm f/1.8 lenses if you get the Rebel. It's a great piece of glass to add to your kit.

• Hong Kong
14 Apr 07
In my opinion I think beisides of the resolution, I think good quality photos still need to care more about around things,such as The shutter speed of the camera and also the manual function,iso,aperture and also how you handle the camera.I think 6-10 million mega pixels is already ok.Actually Canon eos rebel is a bit out of date so you can prefer eos rebel xt or xti is more up to date and come with much more function!So just go and look around those dc store and also find more information online.Or ask in mylot too!I think there are lots of fans who love to use dc products!Enjoy and hope you can buy them soon!

• United States
13 Apr 07
In creating good pictures, the camera is only 1/2 the equation. The other 1/2? The person behind the camera. You have to find a subject, get rid of distraction, compose, correct lighting and shoot. As for MP. Bigger megapixels only mean that you can print in a larger size (see: http://www.design215.com/toolbox/megapixels.php ). It does not necessarily result in a better picture quality. If you plan on making 10 by 7 inch or smaller pictures, a 6.3 camera is fine. That doesn't mean that any camera is useful to create pictures. Besides camera, you need lens (which canon offers (lot of expensive ones )), you need lighting, you need to be able to control various things. I think a rebel is adequate for these purposes. I have one myself, and I'm happy with it. I don't have professional looking pictures, due to my skill :) not my camera. My only problem is that the rebel is quite slow to start (takes about 2 seconds to start up), not instantly like the XT.

• Philippines
13 Apr 07
I only have 4 MP camera.And it shows a good quality photos already.I am already contented by the results and I have no plans of buying another higher camera of hinger MP.