sweetest thing for making up..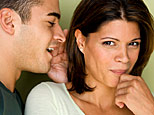 Philippines
April 12, 2007 8:11pm CST
what's the sweetest thing that you did,or that you will do in making up with your girlfriend/boyfriend? when i had a boyfriend before,everytime we had a fight and if it is my fault,ill just look into his eyes and hold his hands and i will tell him how i love him and asking for his forgiveness..and if he forgive me,i will never do that things again so that we'll never had a fight.. how about yours?
1 response

• Philippines
17 Sep 07
If these happens to me, I become the most passionate person no one ever thought I could be. I guess I am not good into saying sorry just by words, so I make sure that I'd do everything I could to show her my sincerity. We all know that Filipinos are good inserenading, as there are now modern ways to serenade the one's we truly cherish. We love singing, we even have lots of videoke bars popping out on every street corners.. So for me, I'd give my best into singing her a very lovely song that I hope could melt whatever ill-feelings she has for me!;)

• Philippines
17 Sep 07
wow! that's was really so sweet!as in!I also love that!.. I hope that there is a guy who will do that for me.. -thanks for responding!

• Philippines
18 Sep 07
thank you..I believe that I've already found him..