mother's day gift..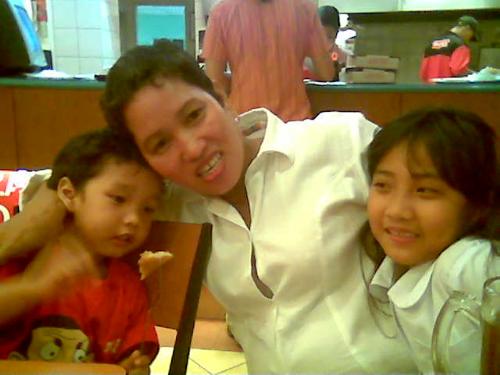 Philippines
April 12, 2007 9:19pm CST
after this month comes mother's day month..what's the best gift that you can give to the person that nurture you for so many years?the best gift that i can give to the most wonderful person in this world is forgiveness for that mistakes that she've done in our family and acceptance for the decisions that she always imply eventhough it hurts me..i love u ma..and advance happy mother's day!
5 responses

• India
13 Apr 07
My mother stays far from me and I was born and brought up with my Grand Parents, But I love my mother so much and this is a time for me to send some nice gift to her , I was actually writing a book what I felt about her for last couple of years hope she likes it , I always respect for the things which she has given me in my life , But I miss her so much because I never stayed with her for longer time I meet her only during vacation ..But my mom loves me so much .... Thinking about nice gift for her as well....My mother is very sweet as every one and because of studies she left me near my Grand Mother and now I have become mother to my 6 months old baby ... I wish your mom Happy Mother's Day! I love u maaaaaaaaa......

• Philippines
13 Apr 07
it was so lonely thinking that your mother is too far from you..on my case,it is my father who's not with us,that's why we are missing him so badly.i guess mother's day is a grate day to spend with our mother..happy mothers day to you girl!and to your mom!

• United States
13 Apr 07
I always tell my mom that her gift is her 2 grandkids. LOL BUt I think that she cherishes her gift that I made for her. ITs me and my little bros handprints. I put them in a frame and then decorated it with stickers and scrapbooking things to show our personalities.

• Philippines
13 Apr 07
thats nice..with a lots of efforts..does your mom dont want her 2 grandkids to be her gift?hehe!

• Philippines
13 Apr 07
You have done what is right. Forgiveness is much better than any material gift. It takes a huge effort to actually forgive. Your mother like anyone else is just human and human makes mistakes. No one in this world is perfect. For me, I know that the best gift I could ever give to my mother is respect. I am thankful for having her in my life. I may not have given her enough, but I'm sure that she'll always gain my respect.

• Philippines
13 Apr 07
yeah that's right..and we will all have kids in the future..and we should respect our mom so that in return,our kids in the future will also respect us.

• United States
13 Apr 07
One mothers day gift I have always cherished is a small photo in a frame shaped like a baby shoe. The picture is of my youngest daughter the day she was born. She added her High School graduation picture in the bottom corner. A oval of her smiling face. I love this gift because she "knew" that I would love it. My baby came to me and gave me what I wanted most for her, that she graduate from high school.

• Philippines
13 Apr 07
advance happy mother day to you..all mother wants their children to finish their studies..my mom wants it too..and i never dissapointed her..now, i already finished my college and have a job..and she's very proud of me..and me to her also..because she always guide me and gave strength to me.