what's the worst lie someone who loves you told you?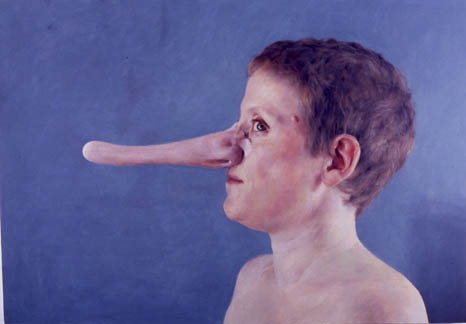 Philippines
April 13, 2007 2:37pm CST
what's the worst lie someone you loves you told you? this might be your special someone or a family member or a very dear friend. what's the worst lie you have received from them? these are the people who are supposed to love you and yet are telling you lies. "she is just a friend." this is the worst lie an ex-boy friend once told me when we were still together. of course, eventually we broke up because of her. and then they got together, well, they broke up soon enough too. how about you? what's the worst lie someone who loves you told you?
4 responses

• Philippines
22 Apr 07
i can't remember. i do remember the worst lie i told her... "i don't like HIM (AL) anymore." But that was when we were just on the first few months of our relationship. Barn, keep quiet!!!!

• Murfreesboro, Tennessee
15 Apr 07
"I will never abandon you again" said by both of my parents at some point or other, and a lie each time. "I would never let anyone hurt you" said by members of my family, and a lie each time. I've been told lies by lovers, and lies by friends, but for the most part my family has been the worst for lying. It is because of them that I make a major effort never to lie to those that I love, because I know how it feels to be on the other end of that lie. If I'm not sure that I can do something, I say that, instead of promising and then going back on my word.

• Canada
23 Apr 07
I aggree with you on that one lecanis. I don't use the word promise all the time. In fact I only use that word when I know I can follow through. I would never want to hurt someone by using that word the way I have been hurt by it!

• Canada
23 Apr 07
I have been lied to a lot by both family and friends. I have WAY too many instances I could write about but my most recent one I will share. It was my friends birthday and she loves elephants. I got her an elephant plate from the Bradford Exchange as she collects elephants. It was a little out of my budget as Bradford Exchange things are NOT cheap, but we had been friends for 11 years and I felt bad because the year before all I could get her was a card. Anyhoo, when it came time for her to open the present I got her she hugged me right away and said Oh wow Jenn I love it, thank you so much. Then she saw it was from the Bradford Exchange and said Jenn you really shouldn't have I bet this wasn't cheap. I just smiled and I told her I felt bad for last year, I loved her, valued her friendship, and that she was worth it. After all the presents were opened I was walking into her kitchen to see if she wanted some help with handing out cake and I over heard her say to her sister, " I know Jenn probably thought I would like this but it is so ugly! What am I going to do with this?" I could feel the tears well up in my eyes, I went straight into the bathroom, cried, and came out later. I didn't stay in there for too long though as I didn't want to draw attention to myself. That was in November and I still haven't said anything to her about it, and niether has she. I was so hurt and so crushed! I thought that was a cheeky thing to say behind my back, and after being friends for 11 years.

• Philippines
22 Apr 07
Well, I have a similar experience too..An ex-gf asked me if she could go out with her aunt. Since it was her aunt who she's going out with i immediately said SURE. Then in the middle of the night a friend called me up and told me that she saw my ex in a bar near Malate together with her friends. So i immediately replied and said it was impossible because she's with her aunt. Then I called up her house and the aunt who is supposed to be with her that night is there in the house and she answered my call..I went to Malate that same night and caught my ex dancing with another guy!!! DAMN!! I went home and the next day we broke up!!!