For those of you that are grandparents....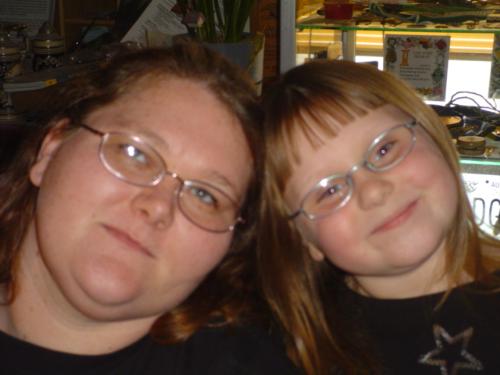 United States
April 13, 2007 8:46pm CST
Which do you like best being a parent or being a grand parent? I like being a grandparent best. I like that I can take my grandshild back home if she is being a brat. (I never call her that.) I like that she adores me right now and that she gets excited when she sees me. How about you?
10 responses

•
14 Apr 07
your daughter and granddaughter are so pretty and they look so much alike , I love being both and really never got a break between because Ross was born when my other 2 were 15 and 17 so he is only 9 years older than my oldest granddaughter , so they are more like brother and sisters they have never called him uncle and they all take the pee out of each other , I think I am a lot less stressed with my grandkids though , They both visited me today and I felt so proud I could have burst , and although my 2 eldest are 44 and 41 I still feel the same when I look at them , but hey!! thats what Mammys are all about xxxxxxxxxx

• United States
17 Apr 07
I can still see the little girls in my daughters and I can still hear that tone in the voice when they are sick or just down and out and needing mom. Sometimes I miss those little girls I played house with or tea party with, and I go get my granddaughter or my niece and all is well!!!

• United States
14 Apr 07
Oh I defenitly love being the grandma,Can you say spoil? I told my kids as they were growing up someday I will pay you back well payback time is here I spoil them and sweeten them up and send them home. Then when my kids call to complain I tell them payback is heck hu.My grandkids are 16-8-2 and 1 on the way(cant wait to get my hands on that one to) Being a grandmother has made all the pain and sleepless nights of being a mother worth while.Thanks for the great discussion.

• Lancaster, New Hampshire
14 Apr 07
I love being a grandparent. Don't get me wrong, I loved being a parent . But being a "papa" is a joy you have to experience to understand. I get all the fun of little kids and when I'm tired of the responsability, they go back to mom and dad. A baby youcan play with and dont have to change. It also brings me joy watching my kids grow old enough and experience having and raising kids. I can't deny either that watching your grandchildren do things that your kids do to you is kind of fun too.

• United States
17 Apr 07
I like them both the same. Maybe because now that they are grown, my kids are my best friends and because I am helping raise my grandkids. For a while I did get to be the grandma that spoiled them, loaded them up with sugar and then sent them home. But they need me in a different role right now and I am happy to be able to do that for them.

• United States
14 Apr 07
I prefer being a grandparent for the same reason as you but I have called called them brats on occasion.

• United States
19 Jun 07
I like being a grandparent as you say the child will go home.You can spoil it.Give it what you want,on the excuse you do not get to see it that much.I Like it even better now, because I have greatgrandchildren coming.What I can do to them.Spoil them to.

• Canada
13 Oct 07
I loved being a parent. My granddaughter lives over five miles away and we hardly get to see her and she has other grandparents. We usually see her every two weeks and sometimes just once a month. When my boys were with us, we saw them every day except when they were older and went for the weekend with their friends or went golfing. I really hate being an empty nester.

• United States
16 Oct 07
Did I read right, only 5 miles? Do you/can you drive? Start walking now, a block a day. Then after a while 2 blocks, and before you know it you'll be walking a mile and then 2 and so on. Find a way to get to that grandchild. I am lucky, I still drive and can take my granddaughter any time I wnat. Rarely do I go a week without atleast seeing her. The one I miss is my youngest daughter, she's 25 now. She lives about a 20 min. drive from me and rarely has time for mom or any of her family or friends here. She works a lot of long hours so she has a good escuse I suppose. I miss her so!!

• United States
18 May 07
Well, I don't know about being a grandparent yet but I know my parents LOVE spoiling my child alot! They take him everywhere! One of these days I am going to have to go through all of his toys and start selling them! That is how bad it is for me when he spends time with the grandparents!!

• United States
15 May 07
I love being a grandparent. How else can you get way with spoiling the kids and not having to reap the consequences. You can spoil them and then hand them back to mommy and daddy to reprogram. You don't have to put up with the moods the naughtiness. You don't have to worry about the dentist bill, the staying up nights when they are sick. Being a grandparent is grand. I'm loving it. .I get the benefits with out the responsibility

• United States
22 Oct 07
This is a hard one cause I love being a parent and agrandparent...But like you said it is so nice to be able to send them back home to their parents when they are being a brat and not listening to ya..I think it would have to be being a grandparent...But I love them all the same...