Is your closet a mess?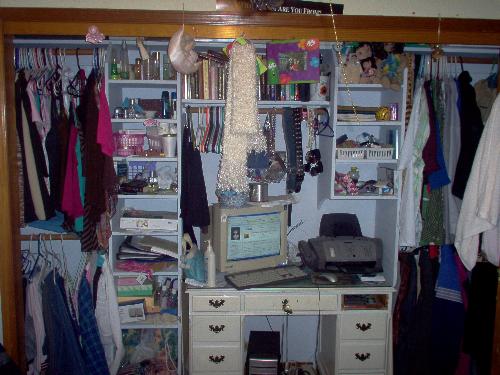 United States
April 14, 2007 12:32am CST
Mine always seems to look messy no matter how much I clean it! If I try cleaning it space by space it'll look clean but when I look at it as a whole it looks messy! What's the deal with that! Oh well, I guess I just have to throw everything away! LOL Syke!
1 response

• United States
14 Apr 07
Sometimes... there were times when I was in college that no matter how hard I tried to keep it clean it just wouldn't happen. Between work and school, there was very little time for me to actually take the time to really do a hardcore cleaning of the closet. I would have dirty clothes all over the floor, the clean clothes were in no order of any kind... it was just all bad. Now, it's not so bad. I keep things fairly organized, and we have a system where we do laundry every two weeks, so it doesn't clutter for too long before we wash, fold, and put everything back away neatly.

• United States
15 Apr 07
Good for you! I'm glad someone has an organized closet! LOL I am very organized but I just can't seem to get my closet there! I clean it and throw a bunch of junk away and it still looks like a huge mess!