What has been your experiences at the dog park? Any fears or anxieties?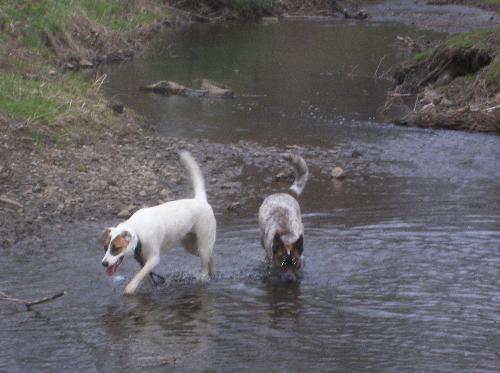 United States
April 14, 2007 10:51am CST
My experience at the local dog park has been great in the socialization of our two cattle dogs. We feared the worst when our neighbors said they were afraid of our dogs. We thought they would cause too many complaints they would be taken away from us. Then I realized that the people had anxieties over any and all dogs, not just mine. We started taking our pups to the park at the same time the weather changed for the better just to see them become more comfortable around other people and dogs. I quickly saw that the barking was all in good faith. They had been barking because they were scared and anxious themselves. They protected each other as well as the family. They had only been doing their "job." I came to the conclusion very quickly that it is the ignorance of others that can get you in more trouble than you deserve or realize. The dog park was so addicting, that the girls go at least every other day now, and they learned the word "park" very quickly. They are so smart; alike my neighbors. Have you had good or bad experiences? Elaborate, please.
2 responses

• United States
14 Apr 07
Well I dont have dogs but I use to have a great dog years ago she was a black lab. She is now gone and now I just have my cats. But my sister just got a dog and she lives in florida. And she tells me some really funny stories about the dog park. I dont even think we have them in our area. I agree from what Ive heard about the dog parks its a really great idea.

• Australia
15 Apr 07
Sorry we do not have any dog park here in Australia and the dogs are not allowed in our parks, as the park is for our children so anyone that takes a dog there will be prosecuted by law. I have owned many dogs all my life and I love them very much but unfortunately though we do not have any parks for dogs.