Your Neighbors Pet...........

Canada
April 14, 2007 3:39pm CST
Do you have a neighbor who has a pet that just runs wild and causes you problems and you don't really know what to do about it.
3 responses

• Canada
15 Apr 07
no not really my neighbours have cats and so do I. The cats go and visit each other in their homes. Some neighbours have dogs but they are not allowed to have the run loose, the city will give them a fine.

• Canada
15 Apr 07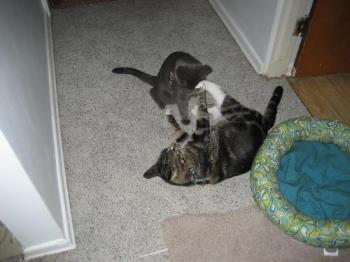 I think it makes more sense to have a cat in the city. That would be my choice anyway.

• Australia
14 Apr 07

My neighbours keep a dog which is very naughty, it always running everywhere and is not a tame one at all because it keeps barking when some strangers pass by its house and stare at you until you are far away from it.Sometimes, if you are carrying a plstic bag with some food inside, it may come near you and try to sniff at the bag or eveb try to 'ask' you for some food. It also keep narking sometimes at the night, may be it is hungry or I cannot think of any reasons why it does not stop barking for the whole night because sometimes the owner of the dog is away from the house for few days and leave the dog alone at home. I love dogs but as the owner of the dog, it is important to tame it rather than make people scare of it.

• Canada
14 Apr 07
Most dog problems are really 'owner' problems and the dogs get all the blame..

• Australia
20 Apr 07
My neighbor had a dog, a big dog and the sound make me crazy he can barked in the middle of the night, lucky me his dog is in the cage.