What Is The Most Valuable Thing In This World??

April 14, 2007 6:26pm CST
I feel that there is nothing more important or priceless to a greater extent than love. You cannot buy love or sell it. Neither is it something that grows on trees that can easily be plucked down. Unlike love, money is under all of these categories. One day you can be poor, the next day you can be rich. One day you can be lonely and without love, the next day it will still be the same. So... what is your opinion on what the most important thing in the world is ??
3 responses

• Philippines
17 Apr 07
The most valuable thing in this world for me is my life and my family.I am so grateful to God that He gave me a chance to live and cultivate the beauty of mother earth and the chance to raise my own family in His guidance.I love my myself and most of all my family.

• Australia
14 Apr 07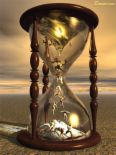 Love is very important, life is hard without love. But I think the most valuable thing in the world is time,which you cannot use money to buy it or use anythign to exchange for it. Time is fair to everyone, we all get twenty four hours a day, but if we do not use the time well, we will just waste it and we cannot rewind back to the past. We cannot regret for losing the time, wht we do is to tresure the time we have at the present and do more meaningful things from now on. Money is very important, but if you use your time well and start saving now, although you may not ve very rich, you still get some money in the future.

• United States
14 Apr 07
The most important thing is happiness. You see if you strive to be happy and make everyone around you happy this world would be a much better place. Besides if your happy you would have to have love. I don't beleive to many evil or lonely people are happy. just my thought