Are we Real?

United States
October 19, 2006 9:02pm CST
What do you think? Do you think that is just our brain perspective or delusion? Remember our brain have all the information we see, taste, etc.
7 responses

• United States
27 Oct 06
There's no way to know at the moment. Even if God told us, we couldn't know for sure. Are you familiar with Descartes? I'm not convinced.


• United States
28 Oct 06
Brains in a vat being fooled by an evil being into thinking reality is real. See Descartes.

• United States
28 Oct 06
How do you know your brain is real? What about the whole mind vs. brain debate? I think that's relevant to the discussion at hand. Many philosophers believe that the brain and the mind are two seperate things. Many ancient myth's, legends, etc. describe this life as a personal video game we created for ourselves. They believe that we have hidden clues for ourselves in this world and that our whole purpose is to "remember" that this was a game we created for ourselves.

• United States
27 Oct 06
I think we're real... the whole psychology thing is very interesting because it makes your brain seem like part of the matrix... but I think there's more to it than that.

• United States
27 Oct 06
Crazy doesn't mean just one thing any more. Crazy could be depressed, bi-polor, schizoprenic, alzheimers. All of these afflictions affect the brain but they're not all crazy. Also "but think about if one brain is not work as one does" is not very clear. Could you clarify your question a little?

• United States
28 Oct 06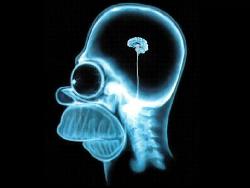 Well I think that we are real, because think about it, if we were not real why would we need the brains???

• India
28 Oct 06
As on date no one was utilised the brain fully. Even Isaac Newton himself agreed that he has utilised only 5% of the brain power. Even though we are agreed that brain has all the information, it reacts partially and gives us number of Question marks in that process. So we think that brain also seeks comfort from us. If we tend to give such opportunity to the brain, immediately it becomes idle and not works as per our wish. Coming to the first point, we are not real is my answer. Its neither perspective nor delution. The soul is real, it has got attachment with brain. The only difference is soul and brain are not in one body. Coz brain memory is immortal and has connections somewhere else. Rarely you can notice the same in News features. Soul is mortal but divides in pieces and goes to select another body. This is also you can notice from News features. Combination of both comes in a body accidentally It becomes very very sensational news. Already you may notice such news in your life. That is called 'Rebirth'. This person shows his last life memories and make pictures or drawings to surprise the people surround them. But this is temporary coz piece of soul gives the details to memories to brain limitedly. So we are not real that you can assess from this incidents. Practically you can verify with good old people whome came across with this incidents.

• United States
27 Oct 06
I have NO idea, but chances are we aren't "real" in the way we think of being real...I do however believe in energy..A Tao sort of mentality...Natural cosmos force of some sort...Don't "know" though and I think anyone who claims to "know" is deceiving themselves. As far as I'm concerned, anything is possible.