injection or pills/tablets?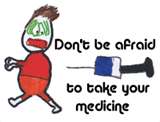 Philippines
April 14, 2007 10:50pm CST
my husband is sick today. he got colds and cough so we decided to visit the doctor. the doctor prescribed some medicines which he could take to get well soon. i've been thinking, if you were sick and your doctor asks you to choose between having an injection for a faster recovery or having medicines that will take you few days before you get well? which will you choose? are you afraid of 'needles'?
4 responses

• United States
15 Apr 07
About a month or so ago my daughter got a serious bladder infection. Her doctor offered her a shot that they could give her in the office or she could spend 10 days in the hospital. My daughter didn't want to have to stay in the hospital she had already spent to much time there so she agreed to the shot. They actaully had to give her 2 shots one in each thigh. That poor child, those shots burned for about 30 minutes after she got them. If I had to have those shots I would rather have the alternative.

• Philippines
15 Apr 07
your right kiss, it is really very difficult to see kids getting sick, the more if they have to undergo these kinds of injection. i hope your daughter's well now. i'll include her in my prayers.



• United States
16 Apr 07
Poor thing, hope he gets better soon. As much as I dislike needles, I dislike feeling bad even more. So if I had to choose, I would probably take the shot if the results are going to be faster. :)