How well do you know your PC?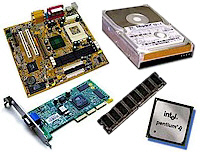 Philippines
April 15, 2007 6:49am CST
Most of us use our PC's everyday without even knowing what we have in it. I think it's important to know what our PC's are capabe of doing and handling so that we can maximize its performance and get the best out of it. If you ask me how well I know my PC then I would o to the Specs. I have: 1.7Ghz Core Duo processor 1GB ddr2 533Mhz of RAM Asus system board 100GB SATA 7.2K HDD 256MB Geforce 7950 videocard As for the programs I must say I have the basics like MS Office, Nero, Adobe, etc. and most of the other programs are downloaded from th NET. So what do you have on your system?
3 responses

• Philippines
18 Apr 07
heres mine Athlon 64 +3000 1.8Ghz (Overclocked to 2.4Ghz) Asrock Motherboard (939DS2) 1GB OCZ Platinum Series Rev2 Asus EN8800GTX Audigy 4ZS TV tuner 250GB HDD western digital 16mb cache 120GB HDD seagate 2 x DL DVD writer Logitech Z-5300 Game On!!

• Philippines
20 Apr 07
hell right! and all you need to protect your system is a good fan. thats why i love the volcano series fans. c',)

• Philippines
21 Apr 07
believe it or not im still using the stock AMD fan but what i did was i modified my case and now it has tons of fan for better air circulation, 5x80mm 1x90mm and the PSU fan Ü i've been playing stalker but it seems that my processor can't keep up, and i dont have any money for upgrade. so those of you who has an Athlon 64 or X2 processor (S939) that you don't use i do accept donations Ü

• Philippines
15 Apr 07
wooooww.. Php100k worth of hardware and you're not making full use of it? hmmm.. i wish i had the same! c",) . mine's specs: Sempron 2200+ 1.49GHz 1Gb RAM 40Gb Exelstor HDD 20Gb Seagate HDD 256 GeForce FX 5500 56x24x56 Samsung CD/WR DVD LG

• Philippines
15 Apr 07
Not really, I got my system for only 20k second hand then I just upgraded the parts. I just bought an Asus DVDRW for 2200. Computer parts are getting cheaper nowadays. I could still remember when i got my first pentium computer, it cost around 50k. The videocard that I have right now is actually my brother's. I just installed it on my system since he's not using it. I don't even know how much it costs. But I'm sure its very expensive! Have you noticed that computer parts here in Asia are actually cheaper than those in ebay or available in the US?

• Malaysia
16 Apr 07
i wish for that kind too. except i prefer other kind of graphic card.. at least not ge force.. mine currently is p4 2.3ghz, 2 40gb maxtor, 20 gb maxtor, 40 gb seagate, combo cd/dvd, and Ati Radeon 9550se.. i was thinking to change the motherboard cause it seems that the current mother does not support the graphic card and had cause it not able to use even 50% of its performance.. and top of that i can still play medium graphic level on carbon nicely..

• Philippines
18 Apr 07
aaaaaawww.. that sux! 2.3GHz of power and medium grafix on carbon.. you gotta get that video running man! my video card can run carbon on max grafix but my processor can't catch up.. hehehe.. c",)

• India
12 May 07
945 intel original mother board core 2 duo processor 1 gb ram 120 gb sata harddisk 1.73 gHz 15.4" screen dvd rw wifi,bluetooth... etc