do you like fall when there somemany diff. colors to look at?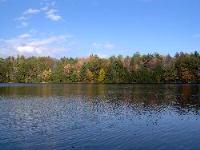 United States
October 19, 2006 10:35pm CST
7 responses

• United States
20 Oct 06
Wow that is beautiful picture. I would love looking at that all day..lol.. Yes I live in a holler so we are surrounded by trees and they are beautiful right now... to bad they will be shortly falling off..the only good thing we will be able to see the squirrels better..lol and no we don't shoot them.



• Anderson, Indiana
4 Nov 06
Are you from Indiana by any chance, because this place reminds me of a couple of places here in my state. One of them is this lake in Brown County State Park, and the other one is in what was once called Richard Lieber State Park (now, it's called a state recreational center to allow hunting and fishing) near the village of Cunot.