WANTED:perfect friends???????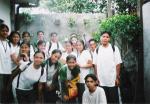 Philippines
4 responses

• United States
16 Apr 07
Most important things for making friendship is the motive for which you like to make friendship. If you are unmarried and like to make friendship for marriage then you shall have to consider age, health, outlook, wealth, merit, education, place of living, sense of humour, miser or moderate to spend money, family background, number of family members, tolerance, responsibility, passion, jeal, loyal or anger, etc. If you want friend for fun and travelling then you should consider wealth, confidentiality range, sense of humour. If you want friend for collecting study materials and notes then should consider merit and responsibility. If you want friend for other personal pleasure you should ability to do it. If you want net friend then nothing just to consider sense of humour, art of writing, tricks of writing knowledge better or a vagabond (like me), fastness to response and country you prefer.

• Philippines
18 Apr 07
perfect friends are those whom you share the common interests.thank you for your kind sense of humor.im much grateful if you're one of them:)

• Philippines
16 Apr 07
There are a lot of real friends how ever there is only one true perfect Friend. Fellowship is one of the strong bonds that unites friends even when you don't share common interests. Stick to friends that build you up and stay away from those that tear you down. Love bonds friends like gravity, you can have enough room to defy it but can't really let go off; gravity pulls you to the ground and so love pulls you back to your friends.

• Philippines
18 Apr 07
yeah.i do believe in your own point of view.fellowship and people whom always there whenever and wherever you need them are considered the perfect friends...thanks for inspiring and giving the real essence of friends:)

• India
18 Apr 07
is cliche of"good friend" is g like that at all? cause the good one may feel may not be good for some one else. yes there may be frens with whom u may be really comfortable but how long till they last? only till ur graduation? ur marriage or perhaps theirs or will it last for ife time rarely cause i too had so called ver very good frens but one of them after marriage was busy with kids n family n it went off, n similarly another one too so now i am not on the look out of this so called good friends i now just pray to god to give me friends who are atlest not cunning n cheating. dont expect much out of any one else u will have to regret

• Philippines
19 Apr 07
in your situation,it so happens that some of you're friends leave you(ouch,sorry for this word) because of such reason/s.but you know that's life,people leave and come into your life.like in my case,i have had many friends(and all of them are good for me),though,in some circumstances,they leave me because some has their job,family,studies,etc. but then,we still find time to bond through sending text messages or chat.don't close your heart to entertain friends.just keep on believing that time will come,you'll find these friends whom will be with you no matter what happens.:)

• United States
16 Apr 07
There is no such thing as a perfect friend. There can be good friends though, and it is great when you find them. Good friends don't necessarily have to share all of your interests, although it's nice if you have things in common. Good friends are there for each other when needed.

• Philippines
18 Apr 07
yes,you're definitely correct!!!friends,no matter what happens,are still there to guide you for the best and not for the worst....thank you for sharing your idea....:)