do you belive in god

India
9 responses

• Philippines
17 Apr 07
Yes I believe in God. He is so powerful. Gods finger can touch nothing but to mold it into loveliness. He has made everything beautiful in its time...

• Philippines
17 Apr 07
why would you pray to God then if you won't beleive anyways? believing God is always understated. people with faith will always say they believe. question is are they really that faithful? personally, i have a good relationship with God. i am all that i am now because of Him.

• Portugal
16 Apr 07
I don't even know if god exists. I may believe in something greater than us but not sure if it's god as people see it, so I don't pray to god. If you should believe in god or not, it's up to you. No one can tell you to believe or not. You have to choose, it all depends of what you think.


• India
16 Apr 07
if you are a hindu indian, they you know that hindus believe in 33crores of GODs. other religions also believe in some messiah of GOD who was sent to this world to salvage mankind. if this is the notion of GOD you are referring to, then i dont believe in this. for me, there cannot be 33crores of different GODS to whom i can pray, nor can there be any messiah who will save me on behalf of my GOD. my GOD to me is some presence to which i can relate to directly. if you ever get a chance, spend some time on your terrace on a new moon night and just stare at the stars above you. or go to any countryside and just watch the night pass by with the ink blue sky above, insterspersed with glittering stars. block off every thought, every awareness from you mind. think of nothing except the presence of something vast and unknown around you, something benevolent, in which you can place your unquestioned trust. i am sure you will feel the presence of GOD in your soul, at least i have felt GOD inside me, on many occassions. and let me tell you, i have never been to any temple to pray. maybe as a tourist, but never to communicate with my GOD.

• Philippines
16 Apr 07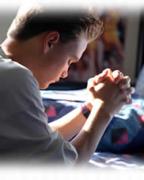 What is the price of your prayers if at the same time you dont believe in God? Well, because we believe in God, we pray for everything, for his blessing. Prayers are for those who believe in Him. We should believe in God because He is evident to exist.



• China
16 Apr 07
yes. God is a girl, do you believe it ? Meanwhile, why your post is so short always? :) only a joke