Cn u ndrstnd ths?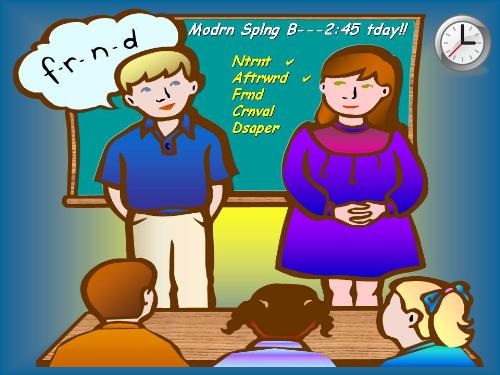 United States
5 responses

• Philippines
16 Apr 07
i thought for a while that you were a Filipino, but upon checking your profile I was mistaken. It is because only the Filipinos have that ability to use and comprehend abbreviated words when it comes to texting. Everything is shortened to accommodate the number of characters required in a single text. It only costs around $.020 cents to send a message to anyone here in the Philippines. I bet you any Filipinos here in mylot could easily understand what you have just written in your post.

• United States
16 Apr 07
Yeah...except LOTS of people use some form of abbreviated text when in chat rooms online or texting between cell phones, etc., just like you describe Filipino's do. And, I'm sure you're right that many here at myLot can understand it. That's why it's so popular to use...as you said, it saves "characters" while texting. Thanks for the post.

• Philippines
16 Apr 07
if you can understand this, you are familiar with the new abbreviation spelling so common today. i am not sure i know how to use it myself, but i think it's just typing the minimum letters required to get the message across. know what i mean? what do you think? - i think i understood it. ha ha ha

• India
16 Apr 07
i can understand what u have written. but i object to use abbreviations because abbreviations make us handicapped in using the true and real spelling. i do not like to use abbreviations except some like dont instead of do not and else

• China
16 Apr 07
I can hardly kwon what you mean,for you use so much short cut ,can you explain it in simple english?

• United States
16 Apr 07
Well... I'm thinking you're joking, but I'm not real sure...anyway, it says "Can you understand this?", but written in the "shortcut" text we see in chat rooms, etc. so much today. Many people use this kind of "english" while texting with their cell phones, too. Thanks for the post.

• Philippines
16 Apr 07
I think you just did ah.. well a shortcut. It is a common thing here in the Philippines by means of texting. I think it can minimize the spelling capabilities of a child. Since I'm used to it, I can understand your writings there. But that writings you just have there, I think is not well accepted here in mylot for they ask for the word "quality" in here and abbreviations or any kind of shortcuts is not allowed but I guess this time it can be for it is the topic itself. I think, i love the way the English language is putted rather than doing or creating a shortcut for that because it just makes things hard he he!