Chimpanzee's birthday (75 years)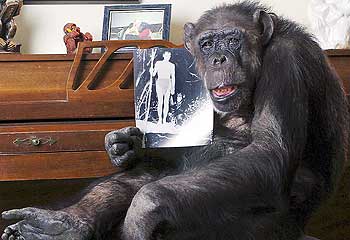 Australia
April 16, 2007 9:16pm CST
Here is a bit of animal news to lighten up your day: "CHEETA, the chimp who starred in the Tarzan movies in the 1930s and who is considered the world's oldest chimp, has celebrated his 75th birthday. Cheeta, whose coat is now peppered with grey hair, marked the occasion with a party featuring sugar-free cake and diet soft drinks in the California desert town of Palm Springs, famous as a retirement community for old movie stars. Chimpanzees rarely live past their 40s in the wild but often live into their 60s in captivity. According to his trainer, Dan Westfall, Cheetah's only health problem is that he has been diabetic for about seven years. Cheetah starred in about a dozen Tarzan films and retired from his film career after appearing in the 1967 picture Dr Doolittle."For news article see here: http://www.news.com.au/adelaidenow/story/0,22606,21544004-5006343,00.html Photo of Cheeta here.
5 responses

• United States
17 Apr 07
Whe I was a child I love Cheeta and I drove my family crazy because I wanted one too. Maybe his owner/trainer has spent some of Cheeta's paycheck?? on giving him a good long happy life, it seems like it.


• South Africa
27 Jun 07
Hi jennybianca! I really love reading articles like your one, thanks. Cheeta has long been a favorite animal star of mine since I was a child. Although I also loved Rin Tin Tin, Cheeta is my best.I am happy to see that he is still alive at 75,I hope that he can see a few more years.

• United States
21 May 07
i can't believe cheetah's still around-very cool:) 75 is astounding for living in captivity. i remember watching the old tarzan movies with my dad that had him in it.

• Singapore
20 May 07
I just wonder if Chimp liked being a star. I guess it might probably be a yes since many humans like being stars. And chimps are pretty much like humans. :P