describe your parenting priorities?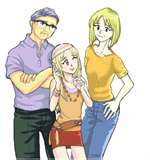 United States
April 16, 2007 10:13pm CST
being an parents is the biggest responsiblity. we are our children strength, weakness, and joy. children learn so much from everyday. there are certain priorities which re most important part of our parenting. we are our children mirrors. sometimes we try so hard to be an ideal mothers and fathers that it's really spoiled our children behavior. if they asked for something expensive or out of budget.....we don't refused them. at least some parents have an heart to say no with reasonable answer. i think we should alwys have our relationship with our children in limit. for instance, well-adjusted children have strong, respect-based relation with their parents. these parents usually teach children values with love, not with fear. we should be very clear with our children about certain issues in life. we should alwys encourage them with their achievement and reward. it's boost up their self-esteem. for our controlling parents........help your children to control themselves. let them make their decision and let them speak their mind. it's give them extra energy and confidence. so later on in life, they are positive decision makers.... i try my best level to teach my children all the best priority abt life. eventhough they are only 2yr and 9month. my parents wer alwys too busy in their own problem that they never really care if it's affecting our lives as well. i guess we alwys learn from mistakes. i learn and educate myself everyday abt parenting from mylots members and read articles in other website. we comments, advise, and listen to each other problem and gives best solution. so today i would liek to take this opportunity and thanx everyone at mylot. thanx in advance who are new to my lot. describe ur parenting priority skills? how well u manage it?
1 response

• United States
17 Apr 07
I think that the biggest thing I want to teach my son is personal responsibilty. It something that seems like alot of people lack these days. I would like my son to know that it is important to realize when you have done wrong and not try to blame someone else. That is the only way that you grow and learn from your mistakes. if you are always blaming someone else than you will repeat those mistakes and nothing will ever change in your life.