If there is God, why do bad things happen to nice people?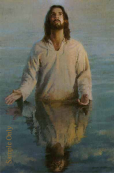 India
April 17, 2007 4:27am CST
I have experienced a lot of bad things all at once e.g. relatives passing away or commiting suicide, family break downs, burgulary, operations etc Why do these things happen to me? My friends have not been through as much as I have been in the last 2 years in their whole lives!
4 responses

• Australia
25 Apr 07
One could ask the same question of any religious figure, God, Budda, Allah... and the answer would be as synthetic from all of them. Life skills and learning prepare most people for their adulthood, but unfortunately there are all too many who do not learn sufficient life skills to be able to comprehend situations and desl with them in a rational sense. This is not a slur on parents as they, for the better part, do the best they can with the life skills they possess! It relates to the song which goes " teach your children well", which is soooo easy to say, but a massive challenge to accomplish! So in short, the responsibility doesn't lie with the "religious figures", but rather the educators of life skills! Once again not all parents have the responsibilities of their childrens errors as society has a lot to answer for in the learnings!

• India
26 Apr 07
Thanks a ton for sharing such valuable information :)

• Philippines
17 Apr 07
Just think that not only you would experience this problems, people my have encounter problems much worse than yours even if they're not in your circle of friends.. We usually ask the question why it happened to us and why they all come at once but we just need to think positive and trust in him. These things happened for a reason and one of it is for us to learn things, just think that whenever a bad thing happened then there should be a greater good thing coming your way..

• India
17 Apr 07
Yeah.. I need to think like this :) .. Thanks for your help

• Sri Lanka
4 May 07
I am sorry to hear that. I think God has a plan for each and everyone of us including everything that he has created. All of us will eventually die, it's just that we have our different time. We should not question God? If something good happens to you did you question Him, why me? A lot of people are going through the same experience as you did. This will be the source of our strength, when we fall down. These experiences will be our best teacher in life.We should just strengthen our faith in God.

• Canada
4 May 07
I totally agree joycer. I know myself that I have had a lot of really hard times in my past... and even now life is not easy... but I find happiness because I totally trust God and his judgement, and those hard times I went through have helped to mould the person I am today. From hitting rock-bottom I have found strength I never knew I had, and came out of it a much stronger person than I was before. Perhaps someone can learn from my experience?

• India
4 May 07
Dear Thanks a lot for sharing these valuable information... It really helps :)

• India
28 Apr 07
That is tough question to answer..because even i feel the same..is really god there..

• India
28 Apr 07
Oh that means your and mine viewpoint is quite similar :)