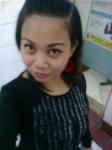 Kristine Cruzat
@xtinecruzat (2)
Batangas, Philippines • Age 31
Joined myLot 9 years ago
I am a god-fearing person and knows how to respect people. I am moody, simple but I know I am raised as a good person. I love music. I love my family and God.
Users Kristine Cruzat Is Following
lior
@liorhadoor (0)
•

Israel
1 Jul 14

This user has no bio!
1 following
Rachel Cooney
@Rachiecxx (3)
•

Ireland
29 Jun 14

Describe myself? ... Well for a start I'm a little broke, hence the membership to many survey sites!
0 following