What is the definition of "Good and Evil"?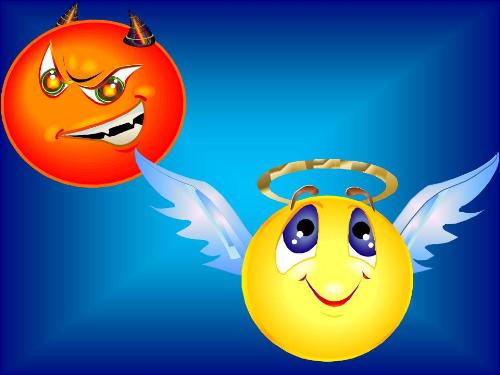 United States
2 responses

• India
18 Apr 07
I used to wonder a lot over this topic and I've found out the definition which defines these two in quintessence. Good is that which looks towards the benefit of others first, and then its own. Evil is that, which primarily focuses on its own benefit and in the process even if others suffer there is no problem to it. You analyze any evil or good act and try to see what inspires the behavior and you'll notice that this principle has to apply there.

• United States
18 Apr 07
Aha...so, can we 'assume' then that all the large corporations that are taking jobs and benefits away from their employees (focusing, as you say, on their "own benefit and in the process even if others suffer...") are "EVIL" or led by "evil people"? Thanks for the post.

• United States
22 Apr 07
OK...I'll accept your analogy, though I think it's a bit of a 'stretch'. I know that "corporations" cannot be labeled as "good" or "evil" anyway...corporations are simply "institutions". The PEOPLE who run corporations, however, may be practicing what some might consider "evil". In your analogy, you allude to the concept of "taking back something you had previously given" being "ok"...or "not evil". I agree it might not be considered as evil as your other analogy (where you'd outright "steal"), but I do think it would certainly be considered "wrong", since the item had been GIVEN to another (i.e., your "possession" was relinquished). It would be very much the same as "stealing"....because the item actually now belongs to the other. Likewise with corporations "taking back what they'd previously given". I can fully understand the need to remain "competitive" in business, but if the MOTIVATION of the PEOPLE in charge of "taking things back" is anything other than legitimate, documentable business reasons (i.e., is not simply to "get more from employees for less", thereby increasing profits), then I would consider it an "evil" undertaking, because it causes harm to many through the "selfish motivation" of a few. I do appreciate your point of view, and your post. Thanks.

• United States
22 Apr 07
OOOPS! I goofed! I mistakenly said your analogy assumed an item was "given" to another, when you actually said it was "loaned" to another. That makes a world of difference, and I'd have to say that if the item was "loaned", then you'd have every right to ask for or take it back. However, corporations don't "LOAN" benefits etc. to their employees. Benefits, pension plans, etc. are part of what has become called "Total Compensation", which includes wages, benefits and a host of other items some corporations use to "pay" their employees. To the employees, the "total compensation package" is often the deciding factor in working in one place rather than another. If corporations are to be allowed to later "retract" some of that "total compensation package", what protection do employees have that their "overall livelihood" won't be severely compromised "at the whims of a few" sometime later on? Well...enough 'rambling'. Thanks again!

• United States
17 Apr 07
Good is a person who what the best for their friends and family. Evil is a person who only wants to harm everyone is their way.