Flooding in West Virginia..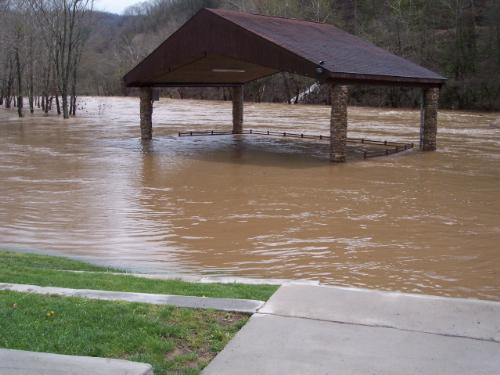 United States
April 18, 2007 3:04am CST
My friends had gone to West Virginia for a visit. While they were there, the eastern United States was hit with storms that flooded the area where they were. There was severe weather covering several nearby states. You can see from this picture how much the water had risen in just a couple of hours.
5 responses

• Canada
18 Apr 07
Welcome to global warming! there is going to be a lot more of this wierd weather in the near future because of it. You might want to view the movie An Inconvenient Truth. Makes me wonder if things would have been different if someone other than Bush had been elected 8 years ago.

• United States
18 Apr 07
I've seen things like this, when we lived in Texas it happened a lot, I mean not weekly or anything but usually a couple times a year. People would drive boats down the roads. As someone else said I think we are going to see this more and more...

• United States
18 Apr 07
Yes, I also live in Michigan now (actually where I was born) and I haven't seen it that bad here although last summer we had a rain storm that was so bad the drainage ditch next to my house was overrun. I think that's the worst I've ever seen it here.


• United States
8 May 07

I've lived in WV for about 12 years now. All my firends say: "Why do you live in a flood plain? Move away from there!". I tell you what - you show me anywhere in the US where they DONT have a weather problem! I lived in Alabama for awhile dodging tornados and the same in Kansas (but worse). The west coast has earthquakes or tremors every other month and the north has severe 6 month winters. The east not only has hot summers, but tremendous hurricanes and noreastersas well. Tell you what, I'll take my chances on the floods here.

• United States
9 May 07
I guess that is true, here in Michigan we have got pretty much everything. We have hot summers, cold winters, blizzards, hailstorms, severe thunderstorms, and even occasional tornadoes mixed in every now and then. Like the old saying goes, if you do not like the weather in Michigan, just wait five minutes and it will change.

• United States
8 May 07
These floods happen every year in the southern parts of WV. A majority of the people live below the poverty level. It may be partially caused by global warming but I think it is because of development. Rich people are moving to WV because the land is cheap. When the landscape is altered with roads, houses and concrete the natural ways have been changed. The water has to go somewhere. I can take you to 3 abandoned Wal-Marts. They are also a contributor to this problem. Personally I think they are allowing it to scare out the poor folks and the rich can redevelop the area.

• United States
9 May 07
I suppose that could be part of the problem. While they were out there all I kept hearing was about the nor'easter and the flooding, then she sent me these pictures and a video clip with the water rushing down the road. She said he water went up by about 6 feet in about an hour at the place where she took the pictures.

• United States
6 May 07
Are your' friends safe? That had to be scary!