choose: SUNRISE or SUNSET?


Philippines
8 responses


• Philippines
19 Apr 07
i've always adored sunset. i love the colors in the sky when the sun is already setting. and it's really beutiful when you're at the beach during a sun set. the sun looks like hiding in the water and the reflectiong and all that is really so beutiful for me. i used to dream of collecting sunsets.. i would need to take pictures of sunsets on special spots, specialy beaches. but i don't have a very good camera now.. i'm still not giving up, though.. maybe someday..

• India
19 Apr 07
i would always choose the SUNRISE .....as because it says about the begining ...i never liked sunset ...not even in the sea coast ..it has a negative ...aura ...

• United States
19 Apr 07
i love the surise. it reminds me of the summer and people that i miss terribly. sitting in a park on teh water in my town and watching the sun come up. its one of my favorite times.

• India
19 Apr 07
I go with sunrise, which brings light into our lives early as soon as we wake up. Keeps our day brighter. On a rainy morning usually we feel lazy to get off the bed and start our routine works which we don't have a problem doing that on a sunny day.

• United States
18 Apr 07
I would say sunsets. During a sunset, you get to think about all the things that day. If you are watching a sunset, i would assume you had a good day. Also, i am never awake at the break of dawn. I guess sunrise could be nice too because than you have the whole day ahead of you

• United States
18 Apr 07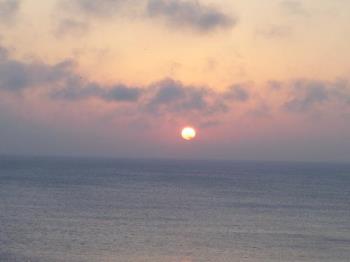 We try to get to Florida every easter and spend it at the beach. I love to watch the sunset. It is a perfect ending to a perfect day. I usually am asleep during the sunrise, but last year I got a pic of it. Just beautiful!