Is Your child a Dancer or just an Observer...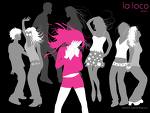 United States
April 18, 2007 11:00am CST
I thought all kids loved to dance and move to the music, both my kids do,,,,,But now that I'm watching other kids, I've noticed that when it comes time for music time, I have half the kids out on the floor shaking their bodys and half will automatically run to the couch and just watch the others....It's the same kids in the same spot everytime.... They all seem to enjoy the music equally, but while some get down there and dance their little hearts out, the others sit and listen, and watch the others.. So is your kid the one dancing? Or the one watching and listening?
9 responses

• United States
18 Apr 07
I have two children that will get up an dance. My daughter just loves to dance, she will make up her own songs to dance to at times. I have one son who is a watcher. Whenever I ask why he saids he can't dance. I have tried to explain that you just move to the beat that there isn't a set way to dance but it hasn't helped yet.

• United States
18 Apr 07
My little one does both, it just depends on what kind of mood he is in and who is around. He's 14 months old. If the dogs are in the room with him, he dances, and tries to get them to dance, too. If they aren't, and he is already sitting down, he's just as likely to just stay sitting there.

• Philippines
18 Apr 07
I think my son would be a great dancer someday. He can do his own moves, and I am really amazed!!! Maybe he got the talent from me. :-)

• United States
18 Apr 07
My child is 2 and he loves to dance. Every time he hears music, he likes to get down and bust some moves. It's SO cute!! I hope he never gives that up.

• United States
23 Apr 07
My children are the ones out there dancing, singing and enjoying music to the fullest. They also enjoy and do well at math and science. Have you also noticed a correlation between music, math and science?

• United States
19 Apr 07
My daughter loves to dance. She has always danced on her own but now that she is in dance class I think she tends to try to get down and dance a little more. My son on the other hand he is an observer. He would rather watch but I don't think that he is really old enough to understand.

• Philippines
19 Apr 07
Well, i am a proud mama to say that my 4-year old baby is a singer and a dancer..she's a performer. I remember one time we are on my auntie's house with so many children too and other relatives, we are so shocked and entertained when we saw my baby in the table dancing and singing while the other children clapped their hands and cheered for her. I was so proud of her.

• United States
19 Apr 07
my daughter is 22 months old and she loves to dance. Everytime music comes on even if its just on the tv she will stop what she is doing and start dancing. We play music alot while we cook and she will come grab my husband or I to go dance with her. Shes a trip.

• United States
18 Apr 07
My son was the one watching. He would shake it a little now and then. My daughter on the other hand will dance anytime she hears music. Sometimes she will even sing to herself (of course, not real words, she's only 1 1/2) so that she can dance. It is so cute. She actually has rhythym.