It is Ironic ...........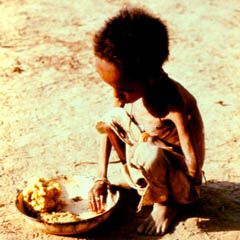 Singapore
April 18, 2007 8:14pm CST
Have you ever noticed that there are people out there who tend to spend a lot of money on good food and pile kilos on their bodies only to spend another chunk of their money to loose the weight that they have gained? Isn't it funny? Isn't it good if the money which they have spent lavishly goes to helping the undernourished countries that are in need of food? What do you think?
2 responses

•
20 Apr 07
As you know, I can only comment on this matter from the outside, because I am a natural lithe and toned individual, for whom dieting has never been an issue. I do, however, wish to point out that there are still cultures in the world, where a well-rounded, and even portly lady is regarded as a thing of beauty. I wish in Europe, we could adopt the Michael Winner approach, eat well and be fat! Food is much more enjoyable when embraced by the psyche, not approached with guilt, or a mind which counts the calories. A good balanced diet, a bit of exercise (which anyone with a young child will get daily, as with many occupations) and enjoyment of things, will lead to a healthy heart, and good life! All the best, eat freely, and, as I note you are in France, enjoy a large glass of Burgundy every meal time.

• Singapore
20 Apr 07
Uh huh.... Rub it in.... Anyway, thanks, I'll try to enjoy my food now with no conscience attached to it!!

• India
19 Apr 07
I have been thinking about this lately.Thanks you reminded me.lol. Some big fat rich people are just insatiable. I have a friend of the same category.I often mock at his obesity just to initiate him to cut down on his food intake and save some pocket money.

• Singapore
19 Apr 07
Yeah... I think we can remind people to eat moderately and save or donate their money for good cause... Thanks