Jolie and Pitt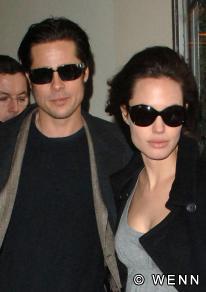 India
April 18, 2007 10:18pm CST
Just came across a news that Jolie is going to dump Brad Pitt..Jolie was in news in the recent past for kissing her brother and again because of her father..Now again.. After having a kid inspite of marrying each other, she is going to dump him..this doesnt sound gr8..i loved the couple and liked them to be together..I know this is none of my concern and they r stars and will do whatever suits them ..but still .. i wrote down what ever I feel..what do u feel?
3 responses

• United States
20 Apr 07
I like the two of them together. I've also read that the tabloids are upset with the two of them because they keep giving exclusives to People. Which I can totally understand because of all the gossip mags out there, People is definately the "classiest" among them, and they do real people too, not just the celebs. I really think that they are going to stay together for a long time. I personally don't think Jennifer Aniston is that pretty, let alone sexy like Angelina. Also, Angelina does so much for so many other people in the world while Jennifer is sitting at home in Cali, filing her nails or getting her hair done. You've never seen a pic of Jennifer living in a 3rd world country for weeks or months at a time without her perfect makeup and hair. I respect Angelina as a PERSON, and I think that Brad has really improved himself by making the switch. Not to mention, he's always wanted kids and darling Jennifer put the kabosh on that because of her "career". And that is my 2 cents worth.

• India
20 Apr 07
thanks for the response..i too think like u ..i too like their pair and want it to be there for long..

•
19 Apr 07
well if she doest want him ill have brad then,most of these famous people are not happy with their lives

• Romania
19 Apr 07
To tell the truth I really want them to stay together for the sake of the kids, given that they have so many of them :) You shouldn't really believe everything you see in the papers, after all there've been rumors about their breakup ever since Shiloh was born. Their relationship may be working or not, but if I were you I wouldn't worry until an official statement has been released. Not to mention that I've read on the Internet that there is some kind of feud between the papers and Jolie because she only sold the pictures of her new kid to one of them or something, which explains all the bad things that have appeared about her in the press lately. I tend to believe that theory because there have been indeed been a lot of venomous articles about her ever since she adopted Pax. Silly stuff if you ask me.