Man , you can cry .


China
April 19, 2007 12:27am CST
To be more healthy, man , you can cry. In this society, we face to high press in business ,in work, in family . As a woman, I can cry when I meet big troubles and then I feel better. But for a man, he might think cry is a shame . But cry is really good for your healthy, you can relax yourself and feel better. Man, sometimes, you can cry, I think. If you agree with me ?
1 response

• Philippines
19 Apr 07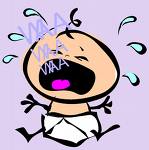 I agree with you, man. According to the statistics, men are more prone to kill themselves, and experience heart attack. Because men usually hide their feelings. They usually mind their own problems and they don't want people to know that they are undergoing a crisis. But man like any other person can't live alone. They have to share their problems or frustrations. Crying is not a weakness, crying is a way of letting out your anger or misery. Crying makes us strong. So for man out there, "real man cry".

• Philippines
6 May 07
we are all entitled to be able to shed our tears. it is unwise to hold them back. especially when we are so frustrated and we feel so deeply hurt, troubled and in pain. if we cry, the pain subsides and the feeling of heaviness in our hearts in unloaded. it is really refreshing that we cry sometimes.