What era would you live in?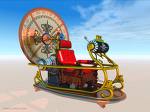 Philippines
3 responses

• United States
19 Apr 07
I would choose to be part of the ancient civilizations or Greece, Rome or Egypt. I always enjoyed studying ancient civilization in history classes. Learning about the different things these people did made me always wonder what they could have done in modern times. Alos, I always liked to read the ancient philosophies and always had a feeling that I had been there during their discussions in another lifetime.

• Philippines
20 Apr 07
now that would be a great time to observe .. but i don't think i can live on it considering the luxuries that we now have.

• Estonia
21 Apr 07
As for living, I would stay where I'm now. But I'd like to visit, just for couple of days perhaps many times and cultures. Especially I'm fond of ancient Egypt but I haven't anything against medieval times too. My home town Tallinn still has a lot of medieval buildings, I'd like to see how they looked when they were new, how they were built etc.

• United States
20 Apr 07
I prefer to go back in the 70's. I don't know why but it seems like there was a good music, clothing,and television shows. There was always something on in every chanels the crime wasn't too bad as it is now. I also like those Victorian Homes and they way they dressed with all thos long dress and hats and using umbrellas.