Stop and listen can you hear spring?

United States
April 20, 2007 6:05am CST
I have been sitting here the past hour (5am -6am) reading and typing and listening to the birds outside. I love the sound of birds chirping in the morning. There is something so peaceful about it. It is still dark out so I cannot see them but they are every where outside. The sweet sound of sping I love it.
3 responses

• Australia
20 Apr 07
LOL. I cannot hear spring now because winter is approaching in Australia. Bit when the spring season was coming,I could hear and see it coming, not only I can hear the whistling of the birds at the early morning,I can also hear them at the sunset when they go back home, I can still hear the whistle at the sunset.I am living in an area where there are lots of trees and birds around, I can alswyas hear the whistle.

• United States
27 Apr 07
Yes I love the sounds of spring. It amazing what you can here if you stop and listen!!

• Philippines
27 Apr 07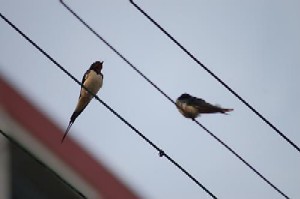 Yes, the sound of birds chirping is wonderful. We tend to be happy with them. Our house is surrounded by trees and many birds come and go and some make their abode in the branches. I love to see them flying and playing, no worries for whatever.