98 and too young to die...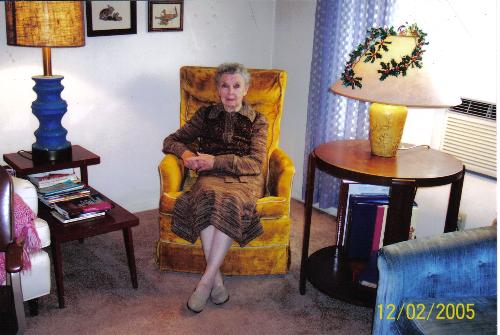 United States
April 20, 2007 4:52pm CST
Yesterday, April 19th, I received a phone call telling me that my dear friend, Fae McCoy had died. It was quite sudden. She just dropped to the floor and was gone. I'm in shock and feeling her loss so deeply. I met Fae in 1989 when I moved into a small apartment building in Burbank CA. She lived directly across the yard from me. There was one large tree in the center of the yard and we used to sit under it every nice day and talk for hours. I found her to be incredibly intelligent and articulate. And funny. When I moved away five years ago, we still kept in touch. She never got a computer (it took me a decade to convince her to get cable tv) so I printed letters in large print and sent actual photos of our new house, our new dogs, etc. Than I'd call her and we'd talk about them and about her. Her visits to the senior center (she didn't really like it there), her trips to the grocery store every week. She still did her own shopping and loved to share recipes for healthy organic meals with me. She read my first novel and loved it. She was as proud of me as a parent would be, though we weren't related by blood. We were related by our love for one another. I think she thought of me as one of her daughters. We were joking about planning her 100th birthday party next year. I can hardly believe she's gone. On top of that, yesterday was also the one year anniversary of when my father died... the same way. He was fine, then laid down and died a few minutes later. It was a bad day all round. But I'm at that age now where this is happening more often. Will I ever get used to it?
3 responses

• Sweden
21 Apr 07
I am so sorry for your loss. I know that it is hard to loose someone that u love, and also it seems as though you and Fae had a great relation. Some of the best ones are with people we are not related to but still have a connection with, I am sure that u will miss her alot - but just keep in mind that she is watching over you

• United States
21 Apr 07
I saw her picture and I think that you are right, she was very pretty. It reminds me my old friend who die few months ago. She was 96 and still driving her car.

• Sao Paulo, Brazil
21 Apr 07
Oh, these things happens more often nowaday. I'm really sorry for your loss. It'll take a while until you adapt to your new life... I just wonder what happens to us when we die. You know, I'm afraid of being in the darkness forever. Sorry about your loss. Keep Fay in your heart. You'll get over it. Best regards!