Smoking.Who has tried it & hated it?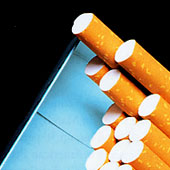 Poland
April 21, 2007 4:08pm CST
They say about 65% of kids by the time get to grade 9 has tried smoking. Since only about 20% of kids actually smoke, that means almost 50% have tried it and not continued. Who has tried it & hated it? I did. I coughed so hard and never wanted to do that again. What's your experience?
10 responses

• Australia
22 Apr 07
I started smoking when I was 16, and over the years, have given up several times, always going back to them. It is a nasty habit, and was having an effect on my health. I have now quit for good, and am very happy about that. I've not smoked for nearly 5years now. And the reason I quit for good was because my wife got pregnant, and I didn't want my child exposed to the dangers associated with smoking. Oh, and my own health too.


• Canada
22 Apr 07
I quit smoking a little over 6 weeks ago and I had been a smoker for about 15 years. It is a disgusting habbit and I am so glad to be done with it. Now my clothes don't stink like the stench of smoke, I know what fresh air smells like, and even food tastes better! Now when I go for walks with my daughter I can enjoy the fresh air and not have to worry about being out of breath either as I can now walk a lot farther then I used to while I smoked.

• Canada
22 Apr 07
P.S. Another thing that REALLY sucks about smoking is it is so damn expensive. By my hubby and I quitting we are saving over 300 dollars a month! The main reason I quit was to be healthy and be around longer to enjoy my hubby and daughter! They are great motivators.

• Philippines
23 Apr 07
I have not tried smoking I don't plan on trying..

• Portugal
22 Apr 07
I tried it for about 10 years, since i was 10 up to 17, then i quit. Now i have over 30 years old and i'm proud of not being a smoker. Why did i quit ? I don't know for sure....i didn't make any therapy, i did not intend to...i just quit....perhaps i didn't feel "cool" anymore....

• United States
23 Apr 07
There is no profit in smoking in the long run. I did smoke a long time ago and thank God that I had the nerve to quit. I think that many kids are pressured to start smoking. Apart from this being the responsibility of the kids, I would blame the tabacco companies for allowing this to happen. To sell a product that causes immense destruction to your body is totally unethical. You will live a long life and prosper by not smoking or drinking for that matter.

• Philippines
23 Apr 07
i did try smoking for almost a year. Yes, it is true smoking is really addictive -- the urge to smoke is centered on the mind, there is that sense of satisfaction in smoking making it hard for anybody to kick the habit for good. But there is no such thing as impossible -- any habit can be unlearned much more a very destructive habit like smoking. Smoking is scientifically proven to be fatal for health not just on the smoker but even the people sorrounding the smoker -- and that is indeed a very bad news.


• India
22 Apr 07
I don't know about how many percentage of kids are smoking but i can sure say that smoking has become a fascination for kids. I tried it and i got used to it. Thought of quitting that many times but never succeeded. I am addicted to smoking, which i am unable to quit.

• Canada
21 Apr 07
Ive tried it and hated it to. I didnt cough becuase i only inhaled a bit, bit it gave me a headache later on and the spins.