I love cats... however i also like to buy a rabbit? is that good?

Philippines
April 21, 2007 11:16pm CST
I love cats, however when i dropby a petshop i saw some rabbits and they caught my attention. I wanted to have a pair to take care of, but i heard that rabbits and cats dont get along much. I also heard that when rabbit have litters and they see a cat, they would KILL their litters du to the fear they have with cats. Is this true? Can a cat lover have a rabbit too?
3 responses

• United States
22 Apr 07
We have two cats and an indoor rabbit. When we let our rabbit out to run in the house the cats like to chase her and then she turns around and starts chasing the cats, lol. They get along together fine but it will depend on your cats and the rabbit. Never leave them alone together but I think it would be fine.


• Canada
22 Apr 07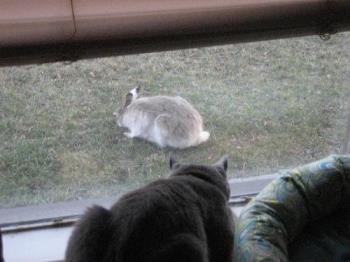 I think you can.. Just make sure that the cat is grown. A rabbit is just too big for a cat to attack. At least as an adult. They are more likely to see it as another cat once they get used to it.