Bananas as a cure for most ailments


Philippines
April 22, 2007 9:01am CST
Since I was 5 years old, my dad always make sure that I eat a piece of banana everyday. I am so frustrated because it is hard to intake a piece of banana for 13 years. What are its benefits aside from being a good source of potassium which is excelent from people who has cramps.
4 responses


• Philippines
24 Apr 07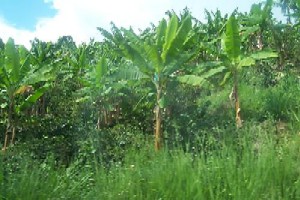 Yes, bananas can do a lot of things. Just obey your dad:) Eat banana a day to keep the doctor away; it's like an apple but I think banana is better. Bananas are rich also in Vitamin A. I think there's Vitamin C in it so it's better than taking the sour fruits for Vitamin C. My mother lived for many years (about 20 years) just eating half of the whole banana as she couldn't swallow for she suffered from stroke before so keep on eating bananas.

• India
24 Apr 07
what do u want about bananas bananas are very good fruit bananas give us a lot of energyBanana is the common name used for herbaceous, cultigenic plants of the genus Musa, and is also the name given to the fruit of these plants. They are native to the tropical region of Southeast Asia, the Malay Archipelago, and Australia. Today, they are cultivated throughout the tropics.[1] Banana plants are of the family Musaceae. They are cultivated primarily for their fruit, and to a lesser extent for the production of fiber and as ornamental plants. Because of their size and structure, banana plants are often mistaken for trees. The main or upright growth is called a pseudostem, which for some species can obtain a height of up to 2–8 m, with leaves of up to 3.5 m in length. Each pseudostem produces a single bunch of bananas, before dying and being replaced by a new pseudostem. The banana fruit grow in hanging clusters, with up to 20 fruit to a tier (called a hand), and 3-20 tiers to a bunch. The total of the hanging clusters is known as a bunch, or commercially as a "banana stem", and can weigh from 30–50 kg. The fruit averages 125 g, of which approximately 75% is water and 25% dry matter content. Each individual fruit (known as a banana or 'finger') has a protective outer layer (a peel or skin) with a fleshy edible inner portion. Typically the fruit has numerous strings (called 'phloem bundles') which run between the skin and the edible portion of the banana, and which are commonly removed individually after the skin is removed. Bananas are a valuable source of Vitamin A, Vitamin B6, Vitamin C, and potassium. Bananas are grown in 132 countries worldwide, more than any other fruit crop. In popular culture and commerce, "banana" usually refers to soft, sweet "dessert" bananas that are usually eaten raw. The bananas from a group of cultivars with firmer, starchier fruit are generally used in cooking rather than eaten raw. Bananas may also be dried and ground into banana flour. Although the wild species have fruits with numerous large, hard seeds, virtually all culinary bananas have seedless fruits. Bananas are classified either as dessert bananas (meaning they are yellow and fully ripe when eaten) or as green cooking bananas. Almost all export bananas are of the dessert types; however, only about 10-15% of all production is for export, with the U.S. and EU being the dominant buyers.

• Philippines
23 Apr 07
Yes I also read somewhere on email that bananas almost has a cure for anything! Like if you have a headache just take one and it will go away. Or it promotes good digestion. I even heard it prevents cancer.