rediffmail or gmail?????????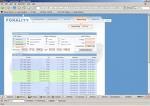 India
April 23, 2007 1:45am CST
guys earlier i was used to use my rediffmail accnt but due to some technical problems i hve switched over to gmail. by the way lemme know abt ur choice which 1 of these would u like to prefer???????
5 responses

• India
1 Apr 08
well , I preffer gmail because in rediff I always get too much spam mails whichs iritate me ..... thanks !!

• Kottayam, India
16 Nov 07
rediffmail is good.I have yahoo/gmail/bsnl/aol.in all working nice.but rediff is more nice.

• India
15 Nov 07
rediffmail provides you unlimited storage even though its unlimited i felt that gmail is superb. i prefer and vote only to gmail than rediffmail. The look the gtalk the usage and lots more cool in gmail than in redffmail and i think that rediffmail is useful only for storing unwanted things but if you need professional mail id then gmail rockss.....


• India
23 Apr 07
rediffmail provide u unlimited space. I think rediff is best use of now....