How do you handle adversity?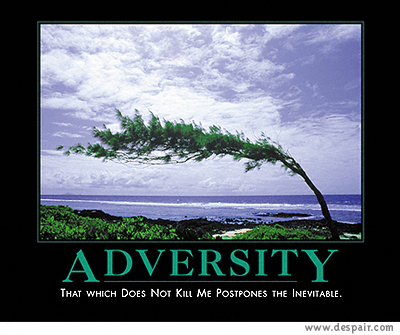 Philippines
April 23, 2007 5:52am CST
They were twin bothers who had a horrible childhood. Their father beat them, could not hold a job because of alcoholism, visited jail on a monthly basis, and never supplied any of his sons with any moral or financial support. Their mom wasn't much better, staying out all night, smoking cigarette after cigarette, bringing home men while her husband was in jail, and verbally abusing her sons with long tirades of obscenity. An old man lived next door and had watched the boys grow up. When they returned hom for their 10th high school reunion, he had the chance to speak to them. One of the brothers was an assistant state attorney with a wonderful family, an active church life, and a smiling energetic personality. The old man marveled at his achievement and asked why he turned out so good. The young man answered, "How could I have turned out any differently? Look at my parents. I lived with that for 18 years, and I didn't want anymore of that for myself or for my family."The other brother's story was quite different. He had been in prison for drug possession, was often unemployed, had 3 children from 3 different women, and so on. The old man asked him the same question, and the brother remarked, "How could I have turned out any differently? You saw my parents. I never had any decent role models; no one cared. You saw the environment I grew up in."Two brothers, identical upbringings, same parents, same circumstances, yet totally opposite outcomes! One brother used his experience as an excuse, a reason to quite, a rationalization for every failure in his life. The other young man used his experience as a motivation that empowered him to rise above the circumstances!How do you handle adversity?
1 response

• Murfreesboro, Tennessee
23 Apr 07
I'm definitely the "rise above" type these days. My own history of abuse and neglect is pretty awful, but I as soon as I could get out of the situation, I did. Now that I am out of the situation, I do everything I can to make the world a better place, to help others who are dealing with the same problems I had, and to ensure that my wonderful beautiful child will never have to go through what I did. I've been known to say "How could I do that when I know how it felt to be abused?" and people don't get it, because they believe the cycle of abuse repeats and believe it is impossible to break. However, it's simply not in my nature to harm anyone in anything but self-defense or defense of others, and I still can't image how my family could live with themselves with the way they treated me.