Hamster's Cage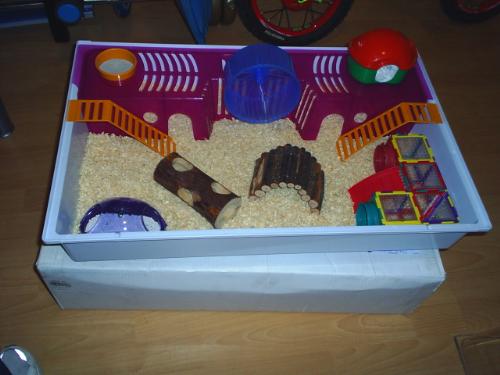 Philippines
April 23, 2007 9:40am CST
This must be the standard size of a cage of one hamster, or just the maximum of two. Some people buy their hamsters a cage that's is just too small for those tiny little creatures. I feel pity for them. .
4 responses

• United States
24 Apr 07
Honestly thats to small. They need lots of room. I hate when people put them in small cages. How would they like it??

• Malaysia
24 Apr 07
hello again kiukitsu!! :) nice hamster cage there.. i would definitely want to buy a new hamster cage. But it's a problem when the hamster like to chew the plastic cage.. im not quite sure why they do it. Perhaps like you said, the cage is just too small for them. :P It's time to go and find some more new toys for my new hamster soon. :P

• Philippines
24 Apr 07
i would prefer a bin cage, if you know it. You can try to search online to see how a bin cage looks like :) It has a lot of space. I don't like cages with tunnels, it's a headache for me. I would go for the simplest ones :)What matters the most is the width of the cage, not the height :)

• Singapore
17 Oct 08
Yeah. The hamsters would feel very crammed. Many people think that smaller hamsters need less space, but it's not true. The bigger the cage, the happier the hamster! Hamsters are very curious animals and it's just simply adorable to see them looking around the cage and sniffing everything they see. Still, the cage should have a rectangular base with corners. Round corners will make the hamsters dizzy and confused because the hamsters get disorientated. Happy mylotting and good day / night to you!

• Australia
23 Apr 07
Some cage is for one hamster but the other is for over 2 hamsters, i think you should choose the big one, if you want your hamsters have kid, after that you must separate the kid and the parent, because the mom will eat the kid. Big cage can make them more active.