The sadest episode of ER ever

United States
April 23, 2007 10:59pm CST
I just watched the sadest episode of ER ever today. Of course it was a rerun on TNT. It was the one where Dr. Greene goes to Hawaii to die. I've watched many cast members go but this one was the worst. Even though this was a rerun and I knew what was coming I still couldn't help but crying. I can't believe I get so attached to characters on a tv show. I'm such a dork LOL.
8 responses

• United States
24 Apr 07
Yes, I too think that was one of the saddest episodes. No character has quite touched us since. Although I admit I was a little teary eyed when Neela found out about Micheal dying in Iraq.

• United States
24 Apr 07
I used to watch ER alot but have not lately. I remember this particular show and it was sad. I liked him too. I get attached at characters in the shows that I watch. When Grissom went away on CSI, I got upset. LOL I sure was glad when he returned. LOL

• United States
24 Apr 07
I haven't gotten into CSI too much. I've watched some of the more recent episodes about the miniature killer. But I haven't gotten too attached to any of the characters yet. But as far as ER goes I've been watching all the reruns on TNT and gotten really attached to the older cast. I haven't been able to get into the new cast too much.

• United States
30 Apr 07
CSI just wasn't the same without Grissom there.

• United States
24 Apr 07
Oh I remember that episode so vividly. There wasn't a dry eye in my den! My entire family is addicted to ER and we were so saddened by that episode. That episode and the episode where Carter's baby passed are the two that have been the most heartwrenching. I guess I am a dork too!

• United States
24 Apr 07
That really is a sad episode. After watching Greene going through everything over the years you feel like you really know him. It's sad to see him and his new wife and baby not being able to be together anymore, and to see his teenage daughter and remember back when she was a little girl... yes, that is a great and very touching episode. Really well handled.

• United States
24 Apr 07
Greene always had bad luck. First he goes through a divorce, then his ex wife and daughter move away, then he gets beat up and suffers post traumatic stress, and then a brain tumor. I got so attached to his character. He was an amazing doctor.

• Northern Mariana Islands
30 Apr 07
I watched the same thing yesterday...Mark Greene was a great character and I was also sad to see him die. He was there from the begining and I guess we thought he would be there till the end, but it didn't happen that way........

• Greece
24 Apr 07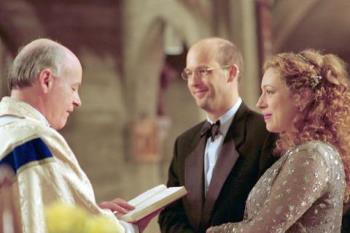 I remember this episode,so sad,but I still can't understand why I'm crying when I watch something like these.I know as you know too all are a TV show and nothing more but still. Once I watched a movie,I 'm not sure for the name but was A Greek film,the actor was dying and talking for the last time with him wife and him son....was so sad and I cried a lot.After the film finish I turn the TV at another channel and what I see?The same actor playing at a funny TV serial....I didn't know what I did because I still had some tiers in my eyes and I thought how stupid I was.....

• United States
24 Apr 07
That was the last episode of ER that I watched. Dr Greene was my favorite character. It was a very sad episode and he was such an important character on the show.