Coconut breaking- A very strange worshipping !!!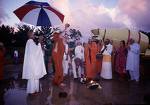 India
April 24, 2007 9:16am CST
In south India, in a temple annual there is a celebration.End of the celebration, keeping all the male devotees in a row they use to break coconuts on their heads.It is rather dangerous breaking coconuts. we can see them bleeding with pain.They do this when they vow to get good harvest.But it is foolish.It is rains in time, we get good harvest.Farmers hard work infact, spoiled by superstition.when they will realise this mistake? Does this sort of practice followed by people in your country? or have you seen any strange worshipping habits of people like the above one?
1 response

• India
24 Apr 07
These are the superstitious feeling in parts of south India mostly Tamilnadu. I would keep calm rather than commenting on this issue but i know there are really many strange ways of worshiping in Tamilnadu. I was living there for almost 5 years and some time i felt oh my god how on earth can these people do this. They are highly devoted to god and they don't care the pain that result in doing these things. I had seen piercing Iron rods in to their skin and then dragging the chariot of god.