Smoke free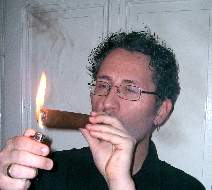 Philippines
3 responses


• China
30 Apr 07
Well, I feel the same, sometimes you have to join a group to do what they are doing.

• India
25 Apr 07
I don't thing that to quit smoke is very hard.Diffrent persons will give diffrent reasons for smoking. i too use to smoke few years back but i never become adicted to it and neither i have purchase full packet of cigrates so far. at that time i use follow some self discipline like i will ristrict my self for one cigrate per day and will not smoke more then 2 cigrates at any cost. i even don't like to smoke during morning hours. so i follow self discipline Now i have quited it without any problem as i feel there is only harm of it not even single advantage

• Philippines
25 Apr 07
i don't think it's hard to quit smoking. i have friends who smoke. some of them already quit. you just have to practice self discipline.