can ManU defeat Chelsea at Stamford bridge??

India
April 25, 2007 4:12am CST
it is true that ManU is leading in premiership but can they defeat Chelsea at their home and walk away as primearship winners??
7 responses

• Pakistan
27 Apr 07
no way man chelsea gonna win this epl,fa cup and uefa league.nd every MANU fan will witness the chelsea glory.

• Indonesia
27 Apr 07
Anything can happen in football. but i guess this match will be the exciting, hard, tactical and great games..i guarantee there will be lots of yellow card at this game !!

• Malaysia
26 Apr 07
If they have full strength squad, yes they can beat Chelsea.But as of now, with injuries to entire first choice defender, it's definitely tough. For me, the smart move for Man Utd is to play negatively against chelsea. Defend deeps, tough tackling, waste some time and quick counter attack.The worse thing can happen is a draw which I believe is not bad for Man Utd compare to Chelsea. Sometimes you have to play ugly to win. Ask Benitez & jose. They did it most of the time.

• Singapore
25 Apr 07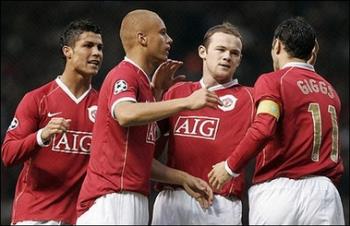 hopefully Man Utd can beat Chelsea at Stamford bridge to clinch the title there.. as this will show them what the true Devils is and to revenge what happen last year!! but it will be a very tough match.. hopefully Man Utd will be up to the tasks and the players are fit enough and no more injuries.. but i think at the very least.. a draw..

•
25 Apr 07
i guess It would b A tough match between both teams.....but at the end i hope MANU Would Won!!!


• India
25 Apr 07
its a tough say but i'll support chelsea