what can u say about her?

Philippines
April 26, 2007 2:39am CST
I really find this girl extremely cut and attractive. What can you say about her?
1 response

• Philippines
26 Apr 07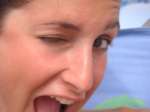 Hi there. I agree with you my friend. The girl on the picture is really pretty. She looks like a movie star or someone who is very established as a tv personality. What country is she from? How did you meet her? Is she your friend or your lover? I'm so curious. She's like an angel in disguise. I just hope she also has a pleasing behavior within. In my case, that's the more important thing to look at for a long term partner. Now, I'm being so practical. I always look at and care about ones attitudes rather than ones looks. I just find it very annoying for beautiful people who acts like nomads or worse, criminals. I just hope she's the right girl for you. I wish I could see her in person so as to know her better. Also, it really turns me on to see a girl with fine gestures and bodily movements. It goes with poise and wit I think. I hope that girl is also like that. Congratulations for a good catch.