Washing and caring instruction for silk clothing and cheongsam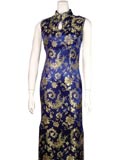 Philippines
April 26, 2007 5:50am CST
Hi! Pardon my ignorance on washing and caring instructions for silk clothing and cheongsam (chinese dress), since I rarely have these kind of apparel. My husband just got back from abroad, a 5-day work related trip, and he got me these clothings. They got somewhat dirty because my little girl played with them and am not sure how to wash them. I'd like to ask those who know how, if you strictly dry clean a 100% silk or can you actually wash with soap and water by hand, or washing machine?
1 response

•
28 May 07
Hi Sophy, I saw that this discussion was left unnoticed. I thought you already got some answers to this. Anyway, I love Chinese dress and I have about ten of them--no that all of them are like the one you showed in the picture. Some are just blouses, others are skirts, and a couple of long dress like yours I supposed. Now how do I take care of them? I wash them separately and I don't use powdered detergent. I use liquid and I dilute it first before soaking the dress in the water. Then when you iron it turn it inside out as the silk is very sensitive and it requires extra care.

• Philippines
29 May 07
Oh, thanks so much for the info jemina. Finally, someone answered,lol!