There's a new family in town!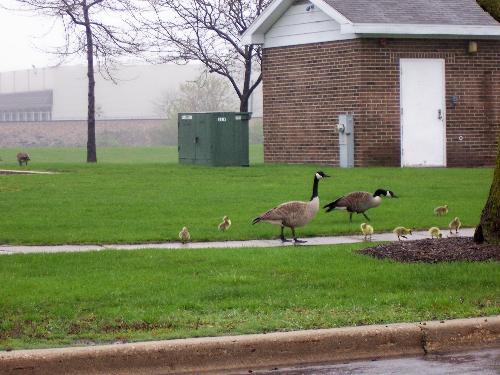 United States
April 26, 2007 12:58pm CST
That's right. The first new goose family has arrived at the pond near my home. Mr. and Mrs. Goose are the proud parents of seven little goslings. They are little yellow balls of feathers. I love watching them grow up. Mom and Dad teach them how to cross the street to get to the other park. They are very protective of their babies. Some humans could take a lesson from the wild animala, don't you think?
7 responses

• United States
26 Apr 07
THat is so cool. I love watching the new babies waddling about. I'm always amazed at how fast they grow. Your right we could all learn alot watching the animals. Enjoy your new neighbors.

• United States
26 Apr 07
AWWW! They are adorable! Yes I agree some humans can take a lesson from wild animals. I had two baby ducks at one time and 33 rabbits!

• United States
26 Apr 07
Wow! 33 rabbits. We had 6 of them born in out flower bed last year. They were so cute, but my dog wanted to get at them so badly. They live under my deck, so when I let her out I have to be sure they are safely hidden from her. Good thing they are way faster than she is and can scoot through the fence. I would be devastated if she got to one. PEACE

• United States
28 Apr 07
They are so cute! We have plenty of the grown-ups in the neighborhood, but I don't remember seeing any babies here. Once or twice when I was working in an office with floor-to-ceiling windows, there were geese outside looking at the people. Now I know how animals in the zoo feel. I wonder if that goose looking in the store window ever met his mate. I hope so.

• United States
26 Apr 07
That is sooo cute! I love little goslings, ducklings, chickees, etc. They are so cute when they are this small. At the mall close to my house there is a pair of geese who have nested in the bushes and are now waiting for the eggs to hatch. They are in the middle of the town and the mall wants them removed but the Animal Control won't do so until the eggs have hatched as to not disturb them. Thanks for the cute pic!

• Canada
26 Apr 07
Yes seeing thenew goslings are cute I love watching them too Just wait though, until Mr & Mrs Goose's babies grow up and bring other peoples children with them LOL And then the following year Those baby gooses will bring others with them Uh huh you are going to end up with herd geeses flocking all over the place and of course doiong what they do best Pooping. Sorry didn't mean to ruin your post. I just know what it is like. We have over a 1000 more geese in our area than we had 4 years ago Wendy

• United States
26 Apr 07
Yes, they do multiply more each year. Around my town, though, there are several ponds and sanctuary's for them. They do tend to stay in these areas. I can remember 15 years back, when I lived in a town that had many geese and no ponds for them to live . I was coaching softball and there was always so much poop on the outfield. My poor girls would get so grossed out when the ball would roll into the poop. What a dilemma!! PEACE

• United States
20 May 07
I love this time of the year. You should have seen my front yard this morning. I filled the bird bath with water and put out some bread and animal cookies. Within 2 minutes, there were all kinds of birds in my yard. I saw Robins, Cardinals, Finches, Crows and Blackbirds. There was also a squirrel in he mix. I was amazed how the crows picked up the animal cookies and soaked them in the bird bath before eating them. This went on for hours. I know the feeling you got seeing the new goose family move in. Lloyd

•
20 May 07
I love the Spring with the ducklings and goslings. Our houses were built on the geese flight path so we see them fly over and back on their migration. I hope they don't poop in flight! It is good that some people are trying to help them. Some of our roads in England have hedgehog underpasses so that they might not get run over.