is your "X" still contacting you?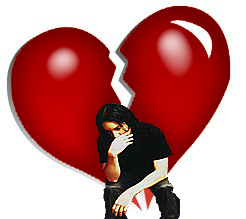 April 26, 2007 3:48pm CST
we broke up almost a year ago. been through the after shock of being dumped, hurt, back stabbed, cheated on, the anger and the pain. it was HELL trying to forget her and when i almost reached the point that i was over her, she jumped out of nowhere and contacted me!! brining all the pain of the break up back, and i had to start form square one. this went on for a long time. What does she want?? she made sure i could never contact her. she changed her number, her address, made it CLEAR that she isn't coming back, as well as she is seeing some guy now! why on earth is she still contacting me?!a couple of nights ago i told her to REALLY STOP as i wanted to get on with my life! i am back to square one again with all the pain. is your ex still contacting you? why do they sometimes come back??
2 responses

• Canada
26 Apr 07
Oh no! I think she is a little controlling and wants to make you love her again and then hurt you. My ex boyfriend's ex used to do this too, she was engaged and he was with me. She just couldn't let go and wanted everything for herself. She couldn't be happy without ruining every one's life, not just her own. Now, that guy and I are broken up and he calls me all the time and messages me online. We have a baby but I think we really don't need to talk unless it is about her, amkes sense huh. Well that's not the best part, his mother emails me and today, called me! What is that, if she wants to know how my baby is, ask her father! He'll know just as much!!

• Hong Kong
27 Apr 07
I am sorry that you are/ were going through a lot of pain. Yes my ex-s would appear in the middle of nowhere and would want to catch up. I don't know why they do that, but I am sure some moments people get weak, people get lonely and people get curious. They don't necessarily want to get back together, but maybe some single moments they think about you and they wish to "catch up" or maybe to see if you have already gotten over them. Well, usually I don't want to talk with them or I would make up some excuses that I am busy or something. Because I do believe letting them back into my life would only bring myself my more pain. They have already gotten over the whole thing and they don't feel anything! So it's really unfair for them to do that kind of stuff. I would just not responding if any of them contact me. You have to love yourself and protect yourself even if there is no one to love you and protect you YET!